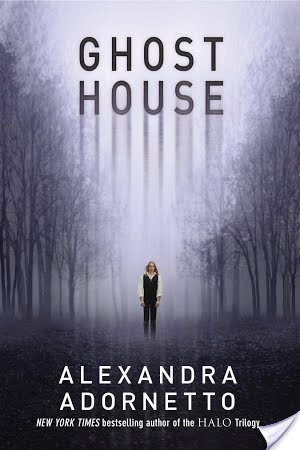 Ghost House

by Alexandra Adornetto
Published by Harlequin on August 26th 2014
Genres: Horror & Ghost Stories, Love & Romance, Young Adult
Pages: 320
Format: ARC
Source: BEA
Buy on Amazon|Buy on Barnes and Noble
Goodreads


From the New York Times bestselling author of the Halo trilogy comes the start of a beautiful and powerful new series After the loss of her mother, Chloe Kennedy starts seeing the ghosts that haunted her as a young girl again. Spending time at her grandmother's country estate in the south of England is her chance to get away from her grief and the spirits that haunt her. Until she meets a mysterious stranger… Alexander Reade is 157 years dead, with secrets darker than the lake surrounding Grange Hall and a lifelike presence that draws Chloe more strongly than any ghost before. But the bond between them awakens the vengeful spirit of Alexander's past love, Isobel. And she will stop at nothing to destroy anyone who threatens to take him from her. To stop Isobel, Chloe must push her developing abilities to their most dangerous limits, even if it means losing Alex forever…and giving the hungry dead a chance to claim her for their own.
I received this book for free in exchange for an honest review. This does not affect my opinion of the book or the content of my review.
Why Did I Read?
Well, I got a copy of this from BEA and I was thinking I'd try and make a dent in my big pile of BEA review books. Also – the premise sounded kind of interesting.
My Thoughts:
Oh dear. I really did not enjoy this book at all. So, Chloe, an almost-eighteen-year-old girl loses her mother at the beginning of the book and it appears that it was a sudden death. (It doesn't really say how she dies, really.) Her dad is not dealing with this very well so he and her grandmother decide it's best that both Chloe and her little brother go spend a few weeks in England with her grandmother.
Enter the haunted house. Which is a bed and breakfast now that her grandmother has renovated it. Anyway, oh yeah, did I forget to mention Chloe sees ghosts, but she pretty much made it stop until her mom's recent death. So she starts seeing a ghost of a young, attractive British dude in riding boots and a flow-y shirt and jewel-like eyes. Oh yes, this ghost is sexy so you know what happens next? INSTA-LOVE. That in and of itself made me roll my eyes hardcore but the CHEESY LINES, oh dear lord, you guys, the CHEESE. Seriously, let me go grab a bottle of wine (or two) to pair with all this ridiculous cheese. But wait, it gets better. There's almost a type of love triangle thrown in and it's weird and ALSO insta-love-y. Insta-love overload, you guys. Blegh.
The part that kept me curious and turning the pages though was I just wanted to know what had happened to dead hot British ghost and his former lover (Isobel aka vengeful spirit out to get Chloe since hot British ghost loves Chloe now). So I'll give it credit for keeping me turning the pages. And I have to say, the back story was much more interesting than the plight of Chloe and her newfound ghost love.
I had a few issues with the plot (minus the insta-love). Some parts just didn't make sense to me at all and I spied many holes in the plot but I won't elaborate on those to avoid spoilers. Okay, so one thing I do tend to have issues with in books is medical inaccuracy. It's not hard to keep this out of books. Google. Wiki. The internet is full of wonders. But there is a scene in which someone is impaled by a heavy object in the neck and blood is SPURTING everywhere ("blood was spurting from the wound so profusely I thought an artery must have been severed") and after 1) waiting for medics, 2) riding to the hospital, the doctor says they can do surgery and he's fine. *raises eyebrow* Okay so there was pressure applied but… the carotid artery is the main artery in your neck and the amount of blood it pumps through? You'd bleed out in minutes. Seriously. My favorite part is when the medics get there and say oh, his blood pressure is dropping. HAHA NO SHIT, liters of his blood are outside of his body. Anyway. There were just lots of instances like that just made me highly dislike the book, the insta-love being the biggest peeve.
As you guys may know, I sometimes pair candle scents with my book reviews. Well, there is a part in the book when Chloe talks about how Alex (the hot ghost) smells like "the smell of riding bareback through the woods in the rain". I laughed so hard. I myself love the smell of horses, hay and the barn and perhaps this is what that quote was getting at but umm… wet horse? I've ridden in the rain many times and wet horse smells just like wet dog. It's bad. Really bad.
In Short:
While Ghost House kept me flipping the pages and intrigued with the flashbacks to the past, that back story was the only part I liked. The insta-love was ridiculous and the number of cheesy lines was just too much for me. Some parts of the plot didn't make sense to me either.
My Rating: 
Related Posts