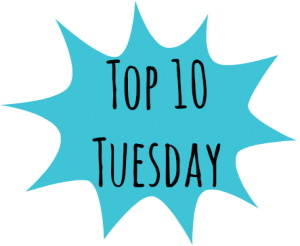 Top Ten Tuesday is a weekly bookish meme hosted by The Broke and the Bookish!
This week, in preparation for Halloween, we are talking about the characters we'd want to be for Halloween! I really only had five main ones that I'd LOVE to be for Halloween so here's my top five!
1. Caelena Sardothien! (Throne of Glass series by Sarah J. Maas): AHH I would so want to be a badass assassin! And I want that gorgeous cloak she has on the cover of the Assassin's Blade. And I want daggers. Maybe next year if I have something to go to!
2. Alina Starkov (Grisha Trilogy by Leigh Bardugo): I'd like a kefta please! I haven't decided which Grisha I'd be though…
3. Hermione Granger (Harry Potter series by J.K. Rowling): I've always wanted one of those Gryffindor scarves. Also, I adore Hermione. She's the bookworm and I like to think that I'd be that smart and as awesome as she is.
4. Alexandria Andros (Covenant series by Jennifer Armentrout): Yes, I would love to dress up in Sentinel black and pretend to be as badass as Alex is!! Would Aiden come with this…? 🙂
5. Rose Hathaway (Vampire Academy series by Richelle Mead): I'm not exactly sure what she would wear, but I'll carry a stake around! If I could be a tenth of how snarky and awesome she is, I'd be happy.
Since I'm not actually going anywhere for Halloween this year, I didn't go to the trouble of putting together an awesome assassin costume… but I totally will next year if I have something to do! This year I'll be passing out candy at home in a ladybug costume. Haha. Maybe I could be a badass ladybug…?
Anyway, tell me – which characters would you love to be for Halloween??
Related Posts