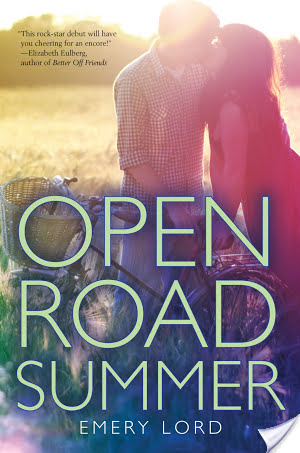 Open Road Summer

by Emery Lord
Published by Bloomsbury Publishing USA on April 15th 2014
Genres: Friendship, Love & Romance, Music, Young Adult
Pages: 352
Format: Hardcover
Buy on Amazon|Buy on Barnes and Noble
Goodreads


After breaking up with her bad-news boyfriend, Reagan O'Neill is ready to leave her rebellious ways behind. . . and her best friend, country superstar Lilah Montgomery, is nursing a broken heart of her own. Fortunately, Lilah's 24-city tour is about to kick off, offering a perfect opportunity for a girls-only summer of break-up ballads and healing hearts. But when Matt Finch joins the tour as its opening act, his boy-next-door charm proves difficult for Reagan to resist, despite her vow to live a drama-free existence. This summer, Reagan and Lilah will navigate the ups and downs of fame and friendship as they come to see that giving your heart to the right person is always a risk worth taking. A fresh new voice in contemporary romance, Emery Lord's gorgeous writing hits all the right notes.
Why Did I Read?
I knew Open Road Summer was meant for me! Country music, a boy next door charmer and an amazing best friend friendship? I am all about that. Thank you to Brittany from Book Addict's Guide and Bloomsbury for this copy!
My Thoughts:
There are some books that mix friendship, romance and invoke all the feels from me that I don't even know how to review it and instead just sit and hug the book. Open Road Summer is one of these books. I just.. where do I even begin?? Okay, let's start with Reagan and Dee's friendship.
Reagan and Dee have been best friends since they were little. Dee's music career has really taken off and has asked Reagan to come with her on her summer tour. Both of them are recovering from break ups so this sounds like the perfect escape. Reagan is not your typical YA MC. She doesn't seem particularly likable because she rebels, she lashes out at people, she has an I-don't-care attitude and as she even realizes herself, she hadn't been making the best decisions. She hides and protects herself behind her facade of heavy makeup, sky-high heels and revealing clothing. Dee (known to her fans as Lilah Montgomery) is Reagan's opposite. She balances her out, she picks her up when she's drunk and needs a ride home, she gets her out of trouble, she essentially is someone Reagan leans on, is always there for her. And vice versa, Reagan is Dee's pillar too – someone she can talk to as she's thrust into the spotlight and all of a sudden has the public eye on her, judging and scrutinizing. Reagan is so protective of Dee, she would do anything for her! I LOVED their friendship. It so perfectly portrayed everything best friends are and do. They know you almost as well as you know you and they listen, respond, they are your other half. Books with amazing friendships always make me nostalgic because I miss when I had best friends like that back in the day. Is it a thing that when you get older, it doesn't seem like you have those close, other-half friendships anymore? Or is that just me? I miss it.
That is why I titled this post "Crash My Party". For non-country music fans, this is a song by Luke Bryan and in the song is about how this new relationship is worth more than anything else and she can "crash" his party anytime – he'll break other plans, he'll leave a show, etc. But before relationships, this is what best friends do. You get a call and your best friend needs you? You're there. They can "crash your party" anytime.
Anyway, Reagan and Dee are both recovering from break ups and Reagan has decided she really needs to turn things around because her life has kind of spiraled. She wants a new start but old habits die hard. Enter Matt Finch, boy next door singer who is opening for Dee's tour. With his dimpled smile, Southern charm and amazing lyrics… I'd so be one of those fangirls in the front row of his shows. 🙂 Anyway, he and Reagan connect and even with her walls and pushing him away, they have these amazing conversations and interactions and gah, I loved them so! And him, Reagan and Dee together, I loved seeing them on their tour! As such a big country fan, it was so interesting to "follow" them around their tour as they go through all these different cities. And the lyrics! I could almost hear these songs. I was kind of picturing Dee as Danielle Bradberry (yes? what do you guys think?)
Most importantly, Matt's lyrics. Oh I want those songs to be real!! I loved the depth of Reagan and Matt's relationship. While Reagan didn't always make the right decisions, she made such big steps from who she was at the beginning.
In Short… 
This was such an amazing story of friendship, romance and growing up. I loved the country music plot background! Matt Finch has also firmly lodged himself on my book boyfriend list. He's amazing. I love him!! If you are a fan of amazing friendships and adorable boy-next-door charmers… check this out!
My Rating: 
Have you guys read this? What did you think? How freaking adorable is Matt Finch!!
Related Posts