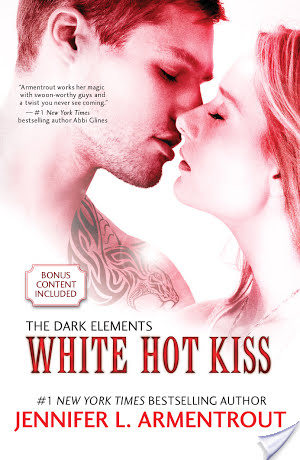 White Hot Kiss

by Jennifer L. Armentrout
Series: Dark Elements #1
Published by Harlequin on March 1st 2014
Genres: Love & Romance, Paranormal, Young Adult
Pages: 304
Format: Paperback
Source: Bought
Buy on Amazon|Buy on Barnes and Noble
Goodreads


#1 New York Times bestselling author Jennifer L. Armentrout draws readers into the extraordinary, irresistible world of Wardens and demons in the New York Times bestselling first book of The Dark Elements series.One kiss could be the lastSeventeen-year-old Layla just wants to be normal—fit in at school, and go out on a real date with the gorgeous Zayne, whom she's crushed on since forever. Trouble is, Zayne treats Layla like a sister—and Layla is anything but normal. She's half demon, half gargoyle, with abilities no one else possesses. And even though Zayne is a Warden, part of the race of gargoyles tasked with hunting demons and keeping humanity safe, Layla's kiss will kill anything with a soul—including him.Then she meets Roth—a tattooed, sinfully hot demon who claims to know her secrets. Though Layla knows she should stay away, it's tough when that whole no-kissing thing isn't an issue. Trusting Roth could ruin her chances with Zayne—and brand her a traitor to the Warden family that raised her. But as Layla discovers she's the sole reason for a violent demon uprising, kissing the enemy suddenly pales in comparison to the looming end of the world
Why Did I Read?
Helloo it's JLA. Plus I read Bitter Sweet Love last year and totally hooked me into the gargoyle world – how does she keep coming up with these awesome ideas??
My Thoughts:
I was totally sucked into this world of Wardens (gargoyles who keep demons at bay) and demons (there are so many different kinds — and the humans don't know they exist) and Alphas (essentially badass angels that you don't really want to ever meet). Totally unique world. Layla is half Warden, half demon and as such, doesn't feel like she belongs in either world. Which totally sucks. She's taken in by the Wardens but she never feels at home with them because her demon half can suck souls out of people's bodies and some Wardens just don't trust her.
Anyway, she runs into Roth, an Upper Level demon that just exudes bad boy sexiness. There's some crazy stuff going on and Layla stumbles upon a rabbit hole of stuff involving her past and background. In classic JLA fashion, I adored the snark, the swoon and this amazing gargoyle world.
There is a love triangle. And I didn't have a side I liked better. I really didn't. This is JLA people so obviously both guys are hot. On one side, you've got Zayne, the sexy, protective Warden whom she has grown up crushing on. On the other, Roth. He is the cocky, demon-ish equivalent to Daemon (from her Lux series). Anyway, so you've got both these guys to root for.
In Short…
Basically, I really enjoyed this one and this super unique world. I don't know how JLA keeps coming up with all these amazing ideas!
My Rating: 
Have you guys read this one? What did you think? Did you have a team? I think I have a team after book 2 so… watch for my review of that. 🙂
Related Posts