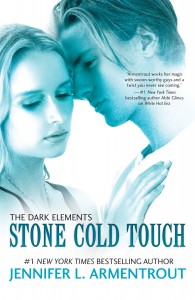 Stone Cold Touch

by Jennifer L. Armentrout
Series: Dark Elements #2
Published by Harlequin on November 1st 2014
Genres: Love & Romance, Paranormal, Young Adult
Pages: 304
Format: ARC
Source: BEA
Buy on Amazon
Goodreads


#1 New York Times bestselling author Jennifer L. Armentrout draws readers into the extraordinary, irresistible world of Wardens and demons in the second book of The Dark Elements series.Every touch has its price Layla Shaw is trying to pick up the pieces of her shattered life—no easy task for a seventeen-year-old who's pretty sure things can't get worse. Her impossibly gorgeous best friend, Zayne, is forever off-limits thanks to the mysterious powers of her soul-stealing kiss. The Warden clan that has always protected her is suddenly keeping dangerous secrets. And she can barely think about Roth, the wickedly hot demon prince who understood her in ways no one else could. But sometimes rock bottom is only the beginning. Because suddenly Layla's powers begin to evolve, and she's offered a tantalizing taste of what has always been forbidden. Then, when she least expects it, Roth returns, bringing news that could change her world forever. She's finally getting what she always wanted, but with hell literally breaking loose and the body count adding up, the price may be higher than Layla is willing to pay….
I received this book for free in exchange for an honest review. This does not affect my opinion of the book or the content of my review.
Why Did I Read?
I really was going to read this sooner! I was SO EXCITED to get an ARC of it at BEA and couldn't wait to get to it after I read White Hot Kiss. Then, I realized the fan vote thing only lasted for three weeks after the release of Stone Cold Touch so I freaked out a bit and then read it. Haha.
My Thoughts: 
Firstly, I just have to reiterate what I said in my review of White Hot Kiss — this gargoyle world is freaking amazing. I love learning more about the Wardens and the demons. There honestly are so many different kinds of demons, there could be so many cool spin offs of this series.
Anyway, I really enjoyed this one. Definitely a page turner especially as I kept having theories about things that were happening. I actually suspected the twist but hey, that didn't make the journey any less enjoyable. It also seemed a bit more action packed than White Hot Kiss, at least to me, and I really liked that.
We got to see a lot more Zayne time in this one! I think I tweeted at one point during my reading that I really really wanted to snuggle with a Warden. 😉 Okay so love triangle needs to be addressed. I don't have an issue with love triangles usually. Usually I figure out who I like better and then I ship them as hard as I can. Zayne and Roth are both amazing guys. I can honestly say that they are pretty even in my book. But here's the thing about this love triangle that really bugged me. Layla. Layla, sweetie, I understand you're confused, because yeah having to choose between these two has got to be a miserable choice, BUT. Can't you refrain from kissing one or the other until you're sure? It just felt like she was stringing both along because as she kisses one, she'll think about the other and vice versa. And GOD, that drove me crazy. Yes, I realize — who's going to want to pass up kissing Zayne and Roth? I get it. But reading about it really bugged me! It really felt like she was leading both on.
And of course, I'm a total hypocrite because that fan vote thing? I can't choose. And that in itself bugs me, haha. I like when I have a clear ship! I'm assuming a crazy warden-demon threesome deal is out of the picture… which is a shame, really. HOW AWESOME WOULD THAT BE. Like, sign me up.
*cough* So anywayyy. The vote idea bugged me because if I lose in a triangle, I like knowing it's because the author had reasons for it vs a fan vote. However, JLA is magical and whatever it ends up being, I'm sure she's going to make it amazing.
In Short: 
I can't wait for the third book! Not until next July and I can't wait to find out what happens after the reveal at the end of this one!
My Rating: 
What did you guys think about this sequel? Did you vote? Whose team are you on? Tell me your thoughts!
Related Posts