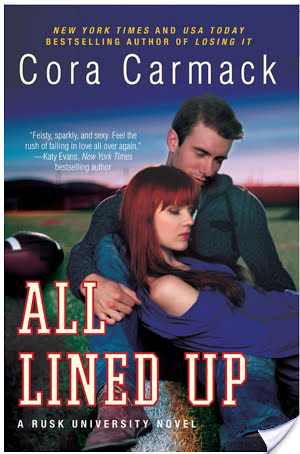 All Lined Up

by Cora Carmack
Series: Rusk University #1
Published by Harper Collins on May 13th 2014
Genres: Coming of Age, Contemporary, New Adult, Romance, Sports
Pages: 320
Format: Paperback
Source: BEA
Buy on Amazon
Goodreads


Dallas Cole loathes football. That's what happens when you spend your whole childhood coming in second to a sport. College is her time to step out of the bleachers and put the playing field (and the players) in her past.But life doesn't always go as planned. As if going to the same college as her football-star ex wasn't bad enough, her father, a phenom in Texas's world of high school coaching, has decided to make the jump to college ball . . . as the new head coach at Rusk University. Dallas finds herself in the shadows of her father and football all over again.Carson McClain is determined to go from second-string quarterback to the starting lineup. He needs the scholarship and the future that football provides. But when a beautiful redhead literally falls into his life, his focus is more than tested. It's obliterated.Dallas doesn't know Carson is on the team. Carson doesn't know that Dallas is his new coach's daughter. And neither of them knows how to walk away from the attraction they feel.
Why Did I Read?
I love football with a fiery passion. I love books with a fiery passion. This series was meant for me!
My Thoughts: 
Like I said, I LOVE football. I haven't always been, I didn't grow up with it like Dallas did. If you'd asked me six years ago to name teams in the NFL, I probably could have named three. MAYBE. Now, well, you can find me yelling at the TV every Sunday rooting for my team! And, as you can see, I have my Football Friday feature. So, yeah, I love it. And I absolutely loved that football wasn't just a background setting in this book. It's integrated into it and it's a major part of the plot — you see practices, you see drills, you see the work outs and gosh, I loved it all.
Dallas is our main character, a coach's daughter and as such, has developed a dislike for the sport and for football players in general. After a positively adorable meet-cute with Carson, she doesn't immediately know he's a football player but when she does, she realizes she can't just drop him from her thoughts. Carson is a transfer and the second string QB at Rusk University and he knows he has to work hard to get a scholarship and get somewhere especially since he and his parents only have enough money to have him go here for three semesters.
I loved watching them come together and try and be "just friends" and then realizing that was just going to fail. One thing I really liked is there is no over the top angst here. They have a few hiccups along the way but nothing that's unrealistic. The flow and progression of their relationship was great! Another relationship I loved – Dallas and her dad's relationship plot line. I like reading dad-daughter relationships and I got the frustration from Dallas and really enjoyed seeing that arc.
This was just a great, fun read. It has a Friday Night Lights vibe so if you love the show, this is right up your alley! Even if you're not a football fanatic like me, you'll still love this story! I may have just loved it that much more because of the football aspect. There's a scene before a football game where the atmosphere of the stadium is described and I was just breathing the writing in because yes. It was perfectly described. It's like this euphoric feeling cheering for your team. I got to go to a Seahawks game a few years ago. It was the last game of the season, in the end of December when it was freezing out but it didn't even matter because you are among thousands of your people. And yes, at CenturyLink Field, the loudest stadium in the NFL? Us 12s show our love, loud and proud and THAT feeling of football love was so accurately captured in that scene. It was my favorite.
Let me edit that statement. It was my favorite besides all the Carson and Dallas times. 🙂 Because honestly, they are the cutest and Carson is the swooniest. His dedication to the game and Dallas' passion about dance jumped off the pages and I loved it.
In Short: 
If you love sporty books, this is for you! Even if you aren't that into sports, this is a great story about two people finding themselves that just happened to find each other. And hey, who is going to say no to some hot football players?
My Rating: 
What did you guys think if you've read it? Are you a football/sporty book fan? Tell me your thoughts!
Related Posts