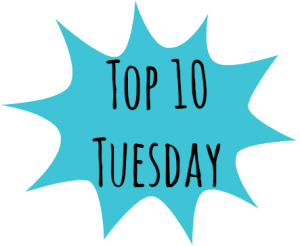 Top Ten Tuesday is a weekly bookish meme hosted by the Broke and the Bookish!
Okay so I kind of had a horrendous Monday. So I collapsed on the couch, watched How to Train Your Dragon 2 for the first time (CRIED – I thought it was a children's film?!) and then realized I forgot to do my TTT. And I actually love putting together the seasonal TBRs — even though, WOW do I SUCK at sticking to them! I just checked my Fall TBR post and ummm I haven't read a SINGLE one on there. Epic fail!! To be fair, I haven't gotten to read much at all, so… I blame that.
These are the top ten books I really aim to read this winter though! There are a few repeats from my fall TBR because I still obviously plan on reading them. Boy. Can someone just find me a time turner so I can have time to read?!
(and because I'm pressed for time, no fancy graphic for this seasonal TBR list — just listening 'em!)
1. Winterspell by Clare Legrand: It has winter in the name! Nutcracker retelling! Perfect for winter!
2. Zodiac by Romina Russell: I got to meet her at BEA and she was the sweetest and I'm really intrigued by this one! Can't wait to read it.
3. The Raven Boys by Maggie Stiefvater: I meant to read this in November. I guess I still have Thanksgiving weekend to make that happen!
4. Split Second by Kasie West: Got this from book outlet recently! And I've been dying to read it since last year after Pivot Point!
5. The Duet by R.S. Grey: I adored Scoring Wilder by her and this just recently came out – I should be buddy reading this soon with Betty!
6. Wicked by Jennifer Armentrout: I'm intrigued by the premise!
7. These Broken Stars by Amie Kaufman and Meagon Spooner: With This Shattered World coming out, I figure I need to catch up on this series!
8. Abhorsen trilogy by Garth Nix: I need to reread the trilogy so I can read Clariel!
9. The Duff by Kody Keplinger: I've been meaning to read this for awhile but haven't gotten to it. I recently saw the trailer (hellooo Robbie Amell — those Amells have fantastic genes) and need to read it!
10. The Darkest Part of the Forest by Holly Black: I honestly am not sure what to expect based on the synopsis but I'm excited to find out!
I'm sorryyy but now I'm falling asleep so I'm skipping linking these. So let's hope I get SOME of these read this winter! Plus my fall TBR. I still want/need to read those too!
What books are on YOUR winter TBR?
Related Posts