I'm really excited to be a part of the 25 days of book boyfriends tour! Thanks to Jessica at Lovin' Los Libros, Chelsea at Starbucks & Books Obsession and Teresa at Readers Live A Thousand Lives for hosting!
The book boyfriend that I chose is Matt Finch from Open Road Summer by Emery Lord! You can check out my review of it here.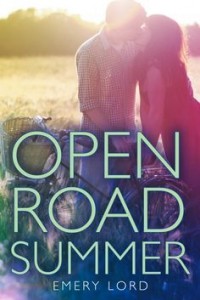 Brace yourselves because I'm about to gush all about Matt Finch. And then check out the playlist at the end! Country music is one of my favorites ever and reading about their tour brought all sorts of songs to mind when I read it!
1. Matt Finch is so nice.
If you think nice is boring, you're wrong. Matt knows just what to do to cheer you up if you're down (like special delivering ice cream??) and he goes above and beyond for his friends.
2. He's super cute and swoony. 
"He's kind of beautiful, in an understated, comfortable-looking way — the kind of guy who doesn't mind seeing a rom-com with you and gives you his hoodie when you're cold."
3. He carries on the best conversations and is someone I would LOVE to hang out with. One of those best friend boyfriends.
4. His lyrics! They are a window to his soul and I truly wish his songs were real!
"Oh, you know I'm only human;
I bend and fall and break.
You cut me and I bleed;
I'm a mess for you to make.
So forget the words and give me deeds;
My heart was yours to take."
If you haven't read this yet — WHAT are you waiting for?? Do it! This was seriously one of my favorite books of 2014 and you all need to check it out and meet the adorable Matt Finch!
Playlist:
Songs I thought of when I was reading this!
Wanted by Hunter Hayes — I picture Matt Finch completely different and also imagine a different voice but Hunter Hayes is around the same age as Matt. 🙂 Plus, I think this song is fitting.
Endless Summer by Danielle Bradberry — I really pictured Dee as Danielle Bradberry for some reason!
Young in America by Danielle Bradberry — This song really stood out in my mind when I read this book! It gave that feeling that seemed similar to Dee's Open Road Summer song.
You Lie by The Band Perry — Reagan's ex…
Crash My Party by Luke Bryan — I mention why I think this song relates to Reagan and Dee's friendship in my review. Best friends will drop anything and everything for you!
Perfect Storm by Brad Paisley — This seriously sounds like something Matt would write about Reagan!
Related Posts