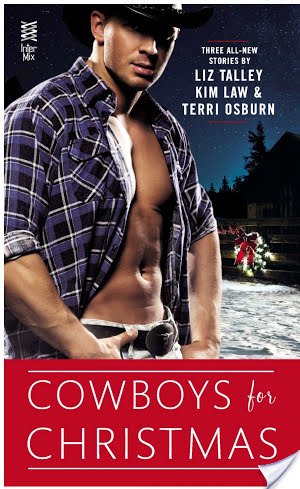 Cowboys for Christmas

by Liz TalleyKim LawTerri Osburn
Published by Penguin on November 18th 2014
Genres: Contemporary, Fiction, Romance
Pages: 320
Format: eARC
Source: Netgalley
Buy on Amazon
Goodreads


3 cowboys…2 weeks…1 wedding!Three all-new stories by Kim Law, Terri Osburn, and Liz TalleyClaire, Georgia, and Mary Catherine couldn't be more different, but they promised they would be there for one another no matter what. And when they all gather in Holly Hills, Texas, for Mary Catherine's Christmas wedding, they'll find they have one thing in common: hearts that are about to be branded—by unforgettable cowboys.In "Love Me, Cowboy" by Terri Osburn, wallflower Claire would be more excited about the wedding if it didn't mean running into Mary Catherine's brother—the bull rider she once had a scorching one-night stand with…Ivy League volleyball coach Georgia never wanted to see Holly Hills—or another cowboy—again. But a sexy veterinarian is making her rethink her vow to never marry a Texas man in "Kiss Me, Cowboy" by Liz Talley.Claire and Georgia both think that Mary Catherine is getting hitched to the wrong man, despite how perfect he is. And in "Marry Me, Cowboy" by Kim Law, a local rancher with a wild reputation gives Mary Catherine a glimpse of what might have been—and what could still be...
I received this book for free in exchange for an honest review. This does not affect my opinion of the book or the content of my review.
Why Did I Read?
I was going to read this back around Christmastime but was actually so busy then that I didn't get to it! But who says we can't do Christmas at any time of the year 🙂
My Thoughts:
So Cowboys for Christmas is split into three stories by Kim Law, Terri Osburn, and Liz Talley. All three are centered around one wedding in the small town of Holly Hills. Mary Catherine is the one getting married and she and her two best friends Claire and Georgia have been best friends since kids. Each one gets her own story of the time leading up to the wedding.
Love Me, Cowboy is Claire's story: a school teacher, she struggles with how she sees herself and her brusque mother doesn't help matters. She runs into Mary Catherine's brother Tyler in the time leading up to the wedding and they realize they never stopped having feelings for the other after one night many years ago. While I enjoyed their story and how Claire was able to come to terms with her body image, their relationship felt fast. Even if they had known each other for most of their lives.
Kiss Me, Cowboy is Georgia's story. Georgia grew up poor and after leaving Holly Hills, has never looked back. She strives to portray her city girl image now and can't wait to leave after the wedding. However, she meets vet Reed and she may have to reevaluate. This one was my favorite story I think! I just loved Reed who is sweet and caring and just perfect for Georgia! Their chemistry leaped off the pages and they were just my favorite.
All this time, we're leading up to the wedding and there have been numerous hints in the previous stories about why she shouldn't be marrying Brad. But why? What's the back story? In MC's story Marry Me, Cowboy we finally get the last pieces of the puzzle of how she wound up engaged and about to marry Brad in the first place when she clearly still harbors love for someone else — Jax. In each story we get overlapping events since obviously these three were together at things but that just means we get those interactions three times and sometimes that got a little tiring. However, there were plenty of new things to keep things interesting!
In Short…
This was a cute read that had me smiling afterward! Christmas didn't actually seem like it played a huge role so even though it's not that time, check this out! Especially if you like swoony Texas cowboys and sweet romances!
My Rating: 
Related Posts