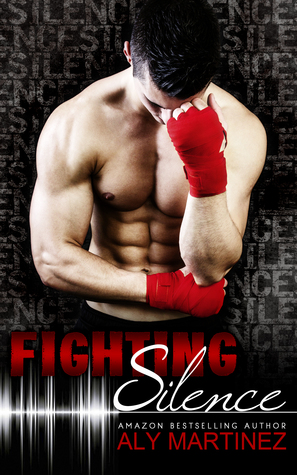 Fighting Silence

by Aly Martinez
Series: On the Ropes #1
Published by Self published on February 23, 2015
Genres: Coming of Age, Contemporary, Love & Romance, New Adult
Pages: 272
Format: eBook
Source: Bought
Goodreads


Sound is an abstract concept for most people. We spend our lives blocking out the static in order to focus on what we believe is important. But what if, when the clarity fades into silence, it's the obscure background noise that you would give anything to hold on to?

I've always been a fighter. With parents who barely managed to stay out of jail and two little brothers who narrowly avoided foster care, I became skilled at dodging the punches life threw at me. Growing up, I didn't have anything I could call my own, but from the moment I met Eliza Reynolds, she was always mine. I became utterly addicted to her and the escape from reality we provided each other. Throughout the years, she had boyfriends and I had girlfriends, but there wasn't a single night that I didn't hear her voice.

You see, meeting the love of my life at age thirteen was never part of my plan. However, neither was gradually going deaf at the age of twenty-one.

They both happened anyway.

Now, I'm on the ropes during the toughest battles of my life.
Fighting for my career.
Fighting the impending silence.
Fighting for her.

Every night, just before falling asleep, she sighs as a final conscious breath leaves her.

I think that's the sound I'll miss the most.

Each book in this series can be read as a standalone.
Why Did I Read?
Betty asked if I wanted to read this with her. I looked it up real quick, saw the cover (Betty knows her book boys) and said yes!
My Thoughts:
To be honest, I wasn't really sure what to expect when I started this. We open on a crazy scene that finds Till, the main character, rushing back to his best friend, Eliza, who he endearingly has nicknamed Doodle. They met as kids, grew up together and were there for each other when no one else was. They hung out in an abandoned apartment building and made it their own secret place.
The story takes us through their childhoods, through high school and into college — well, college for Eliza. Till is busy holding down multiple jobs and trying to take care of his two younger brothers. Both Till and Eliza don't come from much and while they struggle with money, with life in general, they always had the other for support and friendship. But anyone can see that are SO much more to each other and for a good part of it I just wanted them to get together already! But Till has some deeply rooted beliefs that he can't, that what he wants (fantasy) and reality can't collide. I was ready to slap some sense into Till at one point because their chemistry and what they meant to each other was so palpable.
Till and Eliza navigating their relationship while helping raise Till's brothers made them all family and I really loved seeing how much they all loved each other and took care of one another. I really came to care for each character so much! Especially Slate. Slate is a former champion boxer and owns the gym that Till both trains and works at. He is so amazing and helps them out so much and is part of their family. I loved him a lot.
Anyway, as Till improves at fighting and we explore their lives together, we also hit on the issue that Till is gradually going deaf. This actually wasn't AS big a plot point as I initially thought it was from the synopsis but it's a really interesting concept that the book dealt with.
In Short…
Some pretty crazy things happen toward the end of the book but overall I think this book was just a great story of a family dealing with life – the ups, the downs, the bad (the worst!!) and the good – together. I really enjoyed it and loved Till and Eliza's chemistry together and just loved their whole story!
 My Rating: 
Related Posts