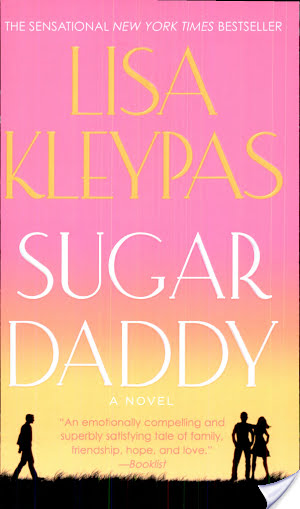 Sugar Daddy

by Lisa Kleypas
Series: Travis Family #1
Published by Macmillan on April 1st 2010
Genres: Contemporary, Fiction, Romance
Pages: 384
Format: Paperback
Source: Bought
Buy on Amazon
Goodreads


Lisa Kleypas has enthralled millions of readers with her powerfully seductive novels. Now she delivers a story featuring her most unforgettable characters yet....

SHE'S FROM THE WRONG SIDE OF THE TRACKS

Liberty Jones has dreams and determination that will take her far away from Welcome, Texas---if she can keep her wild heart from ruling her mind. Hardy Cates sees Liberty as completely off-limits. His own ambitions are bigger than Welcome, and Liberty Jones is a complication he doesn't need. But something magical and potent draws them to each other, in a dangerous attraction that is stronger than both of them.

HE'S THE ONE MAN SHE CAN'T HAVE

When Hardy leaves town to pursue his plans, Liberty finds herself alone with a young sister to raise. Soon Liberty finds herself under the spell of a billionaire tycoon---a Sugar Daddy, one might say. But the relationship goes deeper than people think, and Liberty begins to discover secrets about her own family's past.

WILL THEY FIND THEIR HEARTS' DESIRES OR WILL HEARTBREAK TEAR THEM APART?

Two men. One woman. A choice that can make her or break her. A woman you'll root for every step of the way. A love story you'll never forget.
Why Did I Read?
It's Lisa Kleypas! So many of my friends love her, I knew I had to read something by her!
My Thoughts:
This was definitely not what I expected, but not in a bad way at all. I really had no clue about what the story was going to encompass so went in with a blank slate. Liberty Jones grows up in Welcome, Texas, with her mother, living in a trailer park. They struggle financially but they get by. It's here that she meets her childhood love, Hardy Cates. I fell in love with Hardy as Liberty did. He's older than her and he's strong, protective, ambitious and has that manly aura. He comforts Liberty when needed and is there for her. But he knows he needs to get out of Welcome, he wants to be successful and in chasing his dreams, he leaves Welcome.
Liberty is left to fend for herself basically. I really enjoyed reading Liberty's story and seeing her grow up and her relationship with her little sister Carrington is just adorable. I loved seeing their closeness.
The triangle aspect nearly killed me though. I fell in love with Hardy at the beginning and when I started to love Gage, I didn't know what to think. Then Hardy comes back and they're BOTH there?! I didn't know what to think. I like rooting for one person 100% and I didn't know what to do because I really did love both. Clearly it's been a long time since we've seen Hardy and he's different but gosh, I did love teenage Hardy so much. The back and forth Liberty did between the two was annoying — I mean, I could definitely see where she was coming from, I had the exact same reaction! The boy she's loved her entire life or the man who she may love now? Like, just when she thinks she's moved on, her old love pops back in?? I could feel what she was going through. But I just felt so bad for Gage for her back and forth! That is my one gripe.
OTHER than that, I loved Liberty's story. I loved Churchill Travis and his family and everyone. I loved how strong Liberty was and how she got Carrington and herself through all the hard times. Her strength and hard work is just so admirable. I absolutely cannot wait to read more about the Travises! I just wish I could've read more Gage before the book ended because GAGE. GAGE.  <3
In Short…
This was a really great coming of age story! I loved seeing Liberty grow up and how she comes to be this great, strong woman. And of course, Gage — if anything, read for Gage. I can't wait to read Hardy's book next!
My Rating: 
Related Posts