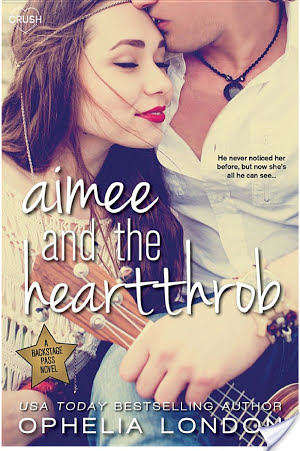 Aimee and the Heartthrob (Entangled Crush)

by Ophelia London
Series: Backstage Pass #1
Published by Entangled Crush on April 14th 2015
Genres: General, Love & Romance, Young Adult
Pages: 279
Format: eARC
Source: Netgalley
Buy on Amazon
Goodreads


He never noticed her before, but now she's all he can see...

Miles Carlisle is every teen girl's fantasy. His rugged good looks and exotic British accent have helped catapult his boy band, Seconds to Juliet, to super-stardom. But after two disastrous and very public breakups, Miles isn't interested in dating just any girl; he wants The One. And the only girl he's interested in is not only his best friend's little sister--and off-limits--but won't even give him the time of day...

As a kid, Aimee Bingham had a huge thing for Miles...until he made fun of her for always tagging along. Now that she's outgrown both him and her pigtails, the prospect of spending two weeks on tour with the childhood crush who broke her heart isn't exactly enticing. Except now Miles seems interested. Very interested. And no matter how hard Aimee tries to resist him, her crush is definitely making a comeback. But everyone knows that falling for a heartthrob is a backstage pass to heartbreak...
I received this book for free in exchange for an honest review. This does not affect my opinion of the book or the content of my review.
Why Did I Read?
Well, I love boy bands. ADORE THEM. And this series sounds like a fictional equivalent of One Direction!! (I loove them!)
My Thoughts:
So this one started off great for me! My little boy band fangirl heart was just so excited and happy. Aimee has had a crush on Miles for forever but after she heard he didn't like his best friend's little sister following them around, she gave up on that crush. Now, she's forced to spend the summer with the band on tour due to some unforeseen events. I loved seeing behind the scenes to Seconds to Juliet, Miles' band, and thought Miles was oh so cute.
However, after about 30%, some things started to grate on my nerves. The most glaring one is the fact that there was text speak throughout the book. Things like omfg, dafuq, cray and symbols were in the narrative and it just made me cringe and took me out of the story. It also read a lot younger than I expected and I think that may have exacerbated my irritation at the drama that ensued. I just thought the main point of contention in the drama blow out was a little… dumb. So that was disappointing.
That being said, I did like meeting all the members of the band and seeing Miles and Aimee's cute relationship start up. I liked the concert scenes because, well, I can totally relate to the screaming fans — I am unashamedly one of those. It's fun seeing what the guys in the band do when they're just hanging out because I can totally picture say, One Direction members playing video games together.
In Short…
Despite my love for the premise, I had some issues that made this fall short for me. However, this was a quick, fun read that I would recommend to fellow boy band fans!
My Rating: 
Related Posts