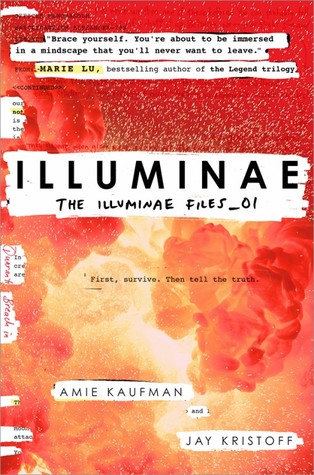 Illuminae

by Amie Kaufman, Jay Kristoff
Series: The Illuminae Files #1
Published by Random House Children's Books on October 20th 2015
Genres: Young Adult, Action & Adventure, Survival Stories, Love & Romance, Fantasy & Magic, Science Fiction
Pages: 608
Format: ARC
Source: Gifted
Buy on Amazon
Goodreads


For fans of Marie Lu and James Dashner comes the first book in an epic new series. "Brace yourself. You're about to be immersed in a mindscape that you'll never want to leave." --Marie Lu, New York Times bestselling author of the Legend trilogy This morning, Kady thought breaking up with Ezra was the hardest thing she'd have to do. This afternoon, her planet was invaded. The year is 2575, and two rival megacorporations are at war over a planet that's little more than an ice-covered speck at the edge of the universe. Too bad nobody thought to warn the people living on it. With enemy fire raining down on them, Kady and Ezra--who are barely even talking to each other--are forced to fight their way onto one of the evacuating fleet, with an enemy warship in hot pursuit. But their problems are just getting started. A deadly plague has broken out and is mutating, with terrifying results; the fleet's AI, which should be protecting them, may actually be their enemy; and nobody in charge will say what's really going on. As Kady hacks into a tangled web of data to find the truth, it's clear only one person can help her bring it all to light: the ex-boyfriend she swore she'd never speak to again. Told through a fascinating dossier of hacked documents--including emails, schematics, military files, IMs, medical reports, interviews, and more--Illuminae is the first book in a heart-stopping, high-octane trilogy about lives interrupted, the price of truth, and the courage of everyday heroes.
I received this book for free in exchange for an honest review. This does not affect my opinion of the book or the content of my review.
Why Did I Read?
There is a ton of hype surrounding this book but of course, I was intrigued and plus, I am a huge sci-fi fan!
My Thoughts:
It's going to be really tough for me to review this book. I just really, really loved it and this book is so unique and is worthy of all the hype, 100%.
I didn't mean to read this in one sitting. But I did. I could not put it down. I honestly didn't know much about the story itself when I started and I think that is the best way to enter this book! Basically, Ezra and Katy live in the Kerenza colony on a planet way out in the middle of nowhere and one day, their planet gets invaded. It is also the day that they had broken up. A passing fleet heard their colony's distress call and they pick up survivors from the colony. The rest perish. Ezra and Katy manage to survive but are each on separate ships.
This is their story. The story of what happens to this fleet as the invading corporation chases after them. The fleet's ships are damaged and it's only a matter of time before the invading battleship catches up to them. This story is told in the most unique fashion. It's a dossier filled with interviews, pictures, hacked communications, reports, journal entries, and a plethora of other assorted documents. It is such a cool way to experience the story unfolding. I would definitely recommend reading this in physical form! I had some parts where I turned the book sideways as I read. The formatting is just one of a kind!
Escaping the invading battleship isn't the fleet's only concern. Soon, there seems to be something that is being covered up. There's a mysterious plague starting. AIDEN (an Artificial Intelligence program with the task of protecting the fleet) seems to be… on the fritz or just a tad too overprotective. Amidst all the odds stacked against their survival, and all the heart-stopping action, there is a romance that is so perfectly shippable.
I really enjoyed Katy and Ezra's interactions and conversations! They are too adorable. Katy is so smart and resilient and an overall amazing character. Ezra is funny and loyal and endearing. And these two aren't the only amazing characters. Each character that is introduced seems so real and I immediately formed connections to them, even the minor characters.
I am purposefully being very vague about the events in this book because I believe experiencing it in the story for the first time is the best way to go. I could picture this as a high action, sci-fi film! It's packed with heart pounding events and filled with fantastic characters. The layout brought an added layer into the experience that is just so cool. This story will keep you on the edge of your seat; it's thrilling and creepy and action packed!
In Short…
Preorder it! Read it. You'll thank me for not giving many details when you experience it firsthand and love it.
My Rating: 
Have you read any other books formatted like this? Let me know which ones!
Related Posts