This book may be unsuitable for people under 17 years of age due to its use of sexual content, drug and alcohol use, and/or violence.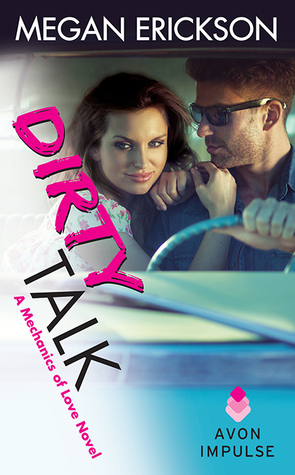 Dirty Talk

by Megan Erickson
Series: Mechanics of Love #2
Published by Avon Impulse on September 15th 2015
Genres: Contemporary, Dating & Sex, Love & Romance, Romance, Siblings
Pages: 304
Format: eARC
Source: Publisher
Buy on Amazon
Goodreads


When the one you shouldn't want is the one you can't resist...
Brent Payton works hard, plays hard, and has earned his ladies' man reputation. But he's more than just a good time, even though no one seems to see it. Until a gorgeous brunette with knockout curves and big, thoughtful eyes walks into his family's garage and makes Brent want more.
Ivy Dawn and her sister are done with men, all of them. They've uprooted their lives too many times on account of the opposite sex, but that's over now. The plan seems easy until a sexy, dirty-taking mechanic bursts in Ivy's life and shakes everything up.
Brent can't resist the one person who sees past his devil-may-care façade, and Ivy finds it harder and harder to deny how happy he makes her. But she has secrets of her own and when the truth comes out, she must decide if she'll run again or if she'll take a chance on forever.
I received this book for free in exchange for an honest review. This does not affect my opinion of the book or the content of my review.
Why Did I Read?
I've seriously loved all of Megan Erickson's books so this was a no brainer!
My Thoughts:
I was so happy to be back with the Paytons! I just love all members of this crazy family and couldn't wait to get Brent's story. Since Dirty Thoughts, I was excited for Brent because he's just a funny, carefree, guy. He's the one who tells the jokes and he had me cracking up continuously in the previous book. In Dirty Talk, we get to know Brent so much better, and get to know that he doesn't want to be brushed off as the non-serious Payton. He wants to be taken seriously and he has certain dreams and parts of himself that he doesn't really show because he's supposed to just be "the fun one".
Ivy is a huge help in getting him to see who he really is and I loved Ivy, too! She and her sister Alex have been moving quite a bit, running from the past, and I couldn't love those two and Ivy's daughter, Violet, any more. I loved the scenes with Brent and Violet because those two together are just precious. I enjoyed the close sister relationship Ivy and Alex have and loved seeing them get enveloped into the big circle that is the Paytons and also Jenna and Delilah.
I did think that it was a little insta-lovey between Brent and Ivy but… I loved their chemistry a lot so it's a minor complaint. I really enjoyed their dates and I seriously love Brent's humor! I also loved seeing how both of them were so supportive of each other. Ivy with Brent's dreams and Brent with her past and Alex's past.
One of my favorite things about Megan's books is that she can write funny, humorous scenes and sexy, swoony scenes but also turn it around and write incredibly touching and emotional scenes as well. There's a particular scene in Dirty Talk that involves the Paytons' dad, Jack, that I was tearing up in because oh gosh, this gruff man does have a heart. Loved!
In Short…
If you are looking for a great romance story with humor, heart and also emotion, look no further! I seriously love this series and can't wait for the next book!
Related Posts