This book may be unsuitable for people under 17 years of age due to its use of sexual content, drug and alcohol use, and/or violence.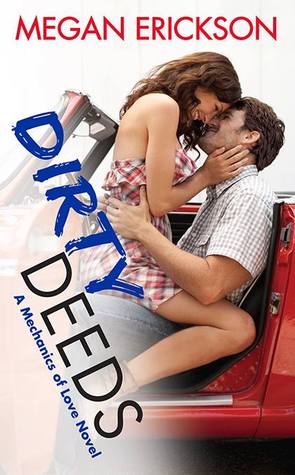 Dirty Deeds

by Megan Erickson
Series: Mechanics of Love #3
Published by Avon Impulse on December 8th 2015
Genres: Contemporary, Dating & Sex, Family, Romance
Pages: 304
Format: eARC
Source: Edelweiss
Buy on Amazon|Buy on Barnes and Noble
Goodreads


Alex Dawn is saying no to men. No to bad relationships, disappointments, and smooth-talkers. Focusing on her family and her job at Payton and Sons Automotive keeps her mind occupied and her heart content. She doesn't really miss a man's touch, until one night, a man shows up with the body of a god and a voice from her dirtiest dreams.

L.M. Spencer is only in Tory, Maryland, to scope out the town as a possible site for one of his company's hotels. The British businessman didn't expect his car to break down or to find the hottest little American he's ever seen holding a tire iron, piercing him with bright blue eyes.

They agree to one hot night, one dirty deed to burn out the chemistry between them. But from their first kiss, Alex can't stop saying yes to this man. And when Spencer's company threatens everything she cares about, they must make the choice to stand together or apart.
I received this book for free in exchange for an honest review. This does not affect my opinion of the book or the content of my review.

My Thoughts:
I really love the Mechanics of Love series! Megan has written such an amazing group of characters. I love the Paytons and everyone in their family unit — even if they're not related by blood, they're family and it just touches my heart to see.
In Dirty Deeds, we get Alex's story. She is super guarded given her past but she's been enveloped by all this love from the Paytons and their friends in the past year that she and Ivy, her sister, have been living there and because of that, has found her place in this small town. I really like that she is so direct and badass and so loving. She was a favorite from the previous book and I really enjoyed seeing her face the demons of her past and come out as the strong woman she is.
Spencer cracked me up in this one. He is so very British and seems so uptight when we first meet him but that goes to show that you shouldn't judge from first impressions! He's just this super nice guy that's trying to find his place in the world even if he doesn't fully realize it. When he and Alex are together, it's like fireworks. They just fit.
There was one thing that bothered me in this one and it's a trope I don't like. The one where one person doesn't tell the other something and then it comes back to bite them and it results in a huge argument and the "break up"  that ensues.  View Spoiler »I could see it coming from the very beginning and I just didn't like it. Spencer is scouting for a hotel site and his rival is scouting one too — except his rival is scouting a site that includes the Payton's Auto Shop land. Obviously this will piss Alex off and result in the "break up" because Spencer didn't tell her… and I just don't like those kind of things. However, this may be just something about me and you may not have a problem with it at all. « Hide Spoiler That being said, I still enjoyed the book a lot.
I think one of my favorite things about this series is that I adore every single character we've ever been introduced to. And in this one, they're all here and we get glimpses of them here and there and each time I get a little excited to see them come up. I think that's what Megan really excels at is forming these fantastic relationships that are so real and tangible that I feel like I know these people. From Jack, to all the Payton boys, their significant others…even Honeybear! I love the town and I love this group of people. I wish I could go to one of their cook outs and be included in their family.
In Short…
This series has such great relationships — romance, friendships, family — and also lots of humor and definitely lots of heart. It's one of those reads that make you happy afterward. I strongly recommend these if you haven't read them already! I feel a little sad because I think this is the last in the series and I really just don't want to say goodbye to this cast of characters! <3
My Rating: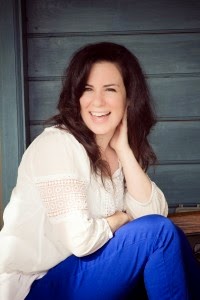 About MEGAN ERICKSON

Megan Erickson grew up in a family that averages 5'5" on a good day and started writing to create characters who could reach the top kitchen shelf.

She's got a couple of tattoos, has a thing for gladiators and has been called a crazy cat lady. After working as a journalist for years, she decided she liked creating her own endings better and switched back to fiction.

She lives in Pennsylvania with her husband, two kids and two cats. And no, she still can't reach the stupid top shelf.
Praise for MEGAN ERICKSON
"A super sweet, extra sexy second chance romance that will have you laughing out loud and needing a minute to cool off. Dirty Thoughts is right!"
   — Jay Crownover, New York Times bestselling author
"Megan Erickson ratchets up the romance and sizzle in her sexy new series. The Mechanics of Love will rev readers' hearts."
   — Jennifer Ryan, New York Times and USA Today bestselling author
"Megan Erickson writes hot, hot, HOT stories packed with emotion and humor. You're going to want to read everything she's ever written!"
   — Sophie Jordan, USA Today bestselling author
Related Posts