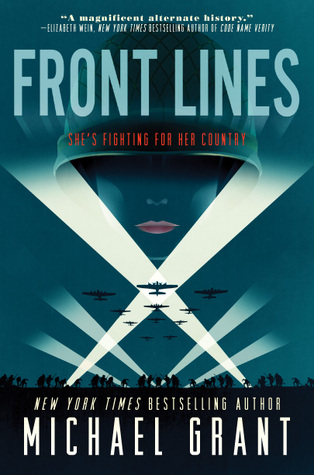 Front Lines

by Michael Grant
Series: Soldier Girl #1
Published by Katherine Tegen Books on January 26th 2016
Genres: Historical, Social Issues, Young Adult
Pages: 576
Format: Audiobook
Narrator: Therese Plummer
Length: 11 hours and 57 minutes
Source: Publisher
Buy on Amazon
Goodreads


1942. World War II. The most terrible war in human history. Millions are dead; millions more are still to die. The Nazis rampage across Europe and eye far-off America.
The green, untested American army is going up against the greatest fighting force ever assembled—the armed forces of Nazi Germany.
But something has changed. A court decision makes females subject to the draft and eligible for service. So in this World War II, women and girls fight, too.
As the fate of the world hangs in the balance, three girls sign up to fight. Rio Richlin, Frangie Marr, and Rainy Schulterman are average girls, girls with dreams and aspirations, at the start of their lives, at the start of their loves. Each has her own reasons for volunteering. Not one expects to see actual combat. Not one expects to be on the front lines.
Rio, Frangie, and Rainy will play their parts in the war to defeat evil and save the human race. They will fear and they will rage; they will suffer and they will inflict suffering; they will hate and they will love. They will fight the greatest war the world has ever known.
New York Times bestselling author Michael Grant has created a masterful alternate history of World War II in Front Lines, the first volume in a groundbreaking series.
I received this book for free in exchange for an honest review. This does not affect my opinion of the book or the content of my review.
The Sound:
I really liked this narrator! I thought she did a great job for each POV that we were in. No complaints here!
The Story:
I really thought I'd like this one more than I actually did. It takes place in an alternate history where women are allowed to fight in WWII. Firstly, I love historical fiction. Secondly, this premise sounds awesome! The story is told in three different POV. One is a naive girl named Rio from California, who has some, well, interesting motives for enlisting. Then we have a Jewish girl named Rainy who is very smart and is going into intelligence. The third is Frangie, an African American girl who enlists because her family needs the money.
I really loved how things started out! I thought it was super interesting and fascinating to learn about these three very different girls who are getting themselves into a war. The book shows the gritty realistic view of what it's like to be a girl and be in the military. It addresses the glaring issues of sexism, feminism, racism and anti-semitism. It was great that all these huge issues are being shown because I think it's realistic and it shows what these characters had to go through and overcome.
However, as we follow these girls through boot camp, the pace of the book slows tremendously. The prologue sets up the story to seem like we are going to see these incredible character arcs of what these girls are like before and how they will change. But for the vast majority of this book, not much happened. The characters and the plot seemed very stagnant to me for most of the book. The character growth and changes didn't seem to occur until the very end and by that time, I was just too bored. This book is almost 500 pages long (~12 hours on audio) and if the pace had been better, or the book shorter, I think I would've been much more on board.
Another big thing that bothered me was replacing a swear word. It actually took me awhile to figure it out because I was listening to it on audio and I wasn't sure if I was just hearing wrong, or what. Instead of saying "fuck", the word is "fug" or "fugging". And it drove me nuts. It seemed like the only reason it was like this was because this is a YA book and they're censoring the swearing because of that. Which seems odd and annoying because the story matter and book itself is pretty harsh and graphic. Like, someone dying in combat violently is okay but "fuck" is too much?
In Short…
Despite my issues though, I think a lot of people will really enjoy this, especially if you have a penchant for anything historical fiction. I really liked reading about these three very different girls from very different backgrounds that are brought together because of this war. It will definitely give you something to think about!
My Rating: 
Have you read it? What did you think? What are some other historical fiction faves of yours?
Related Posts