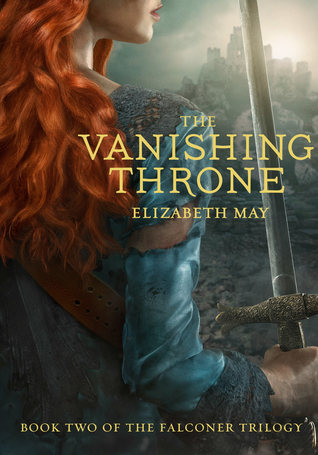 The Vanishing Throne

by Elizabeth May
Series: The Falconer #2
Published by Orion Publishing Company on November 19th 2015
Genres: Fantasy, Young Adult
Pages: 368
Format: eARC
Source: Netgalley
Buy on Amazon
Goodreads


The second book in the Falconer trilogy is packed with surprises and suspense.

Aileana Kameron, the Falconer, disappeared through the portal that she was trying to close forever. Now she wakes up in the fae world, trapped and tortured by the evil Lonnrach. With the help of an unexpected ally, Aileana re-enters the human world, only to find everything irrevocably changed. Edinburgh has been destroyed, and the few human survivors are living in an uneasy truce with the fae, while both worlds are in danger of disappearing altogether. Aileana holds the key to saving both worlds, but in order to do so she must awaken her latent Falconer powers. And the price of doing that might be her life.

Rich with imaginative detail, action, fae lore, and romance, The Vanishing Throne is a thrilling sequel to The Falconer.
I received this book for free in exchange for an honest review. This does not affect my opinion of the book or the content of my review.
Why Did I Read?
Oh, you know, because the cliff hanger at the end of The Falconer nearly killed me! I can't even imagine you poor souls who had to wait years after that — how did you survive?!
My Thoughts:
The Vanishing Throne picks up right where we left off and things start off with a bang. Aileana is at the mercy of Lonnrach in the Sith-bruh and both the human world and the fae world is basically falling apart. Things are not looking too good, that's for sure. There is widespread devastation and this definitely takes a toll on Aileana who blames herself.
One of the major highlights of this one for me was how much Aileana matures and changes. In the first book, she is driven into this bloodlust for killing for vengeance and now she has come to realize that the violent vengeance she had sought was not the answer. Her realizing this and dealing with her guilt and figuring it all out was done really well and her character growth was just so good!
Not to mention… KIARAN. I liked him in the first book but there was this tipping point in this one where BAM, I was in love and it was amazing and it's the bookish love that every bookworm wants when they pick up a new book. That type of all-consuming, HELL YES type love you get. I may be just talking crazy now but… whatever. Kiaran is brooding and has a whole mysterious, terrible past that we finally get answers about but among all his layers of scary-powerful-terrible fae nature, there is this core that wants peace and has emotion that peeks out sometimes. It's the part of him that loves Kam and it softens him. I feel like I can't properly describe my love for him. You just really have to read it and experience it.
A new character that I also loved is Kiaran's sister Aithinne. Firstly, not only are her and Kiaran's interactions amazing and perfect, they make me laugh and it's so… normal sibling-like you can almost forget they're really powerful fae. Aithinne is funny, witty and as Aileana states, kind of weird. But a good type of eccentric. She's the opposite of Kiaran in a lot of ways but just as strong willed.
Besides all the love I have for the characters, the plot is brilliant. There is a lot of history about the fae and the human world. You find out a lot of stuff and it made my head spin, in a totally good way because wow. I could never have predicted or imagined any of this and it was just so brilliantly good. There is less steampunk in this one, but given the circumstances in the book, I get it, even if I did miss it a bit. There is a lot more development and emphasis on the fae, introduction to new creatures and it's just plain awesome.
In Short…
I loved this book and story SO much. The plot, the world, the characters were all fantastic, creative and ingenious. Kiaran has become my newest bookish love and he gives me that heart seizing, swooping love feeling that can be rare to find. While this one doesn't really end on a cliffhanger, I am still dying for the next book! I highly recommend this series to anyone who loves fantasy, steampunk or just strong, amazing storytelling. I can't sing the praises for The Vanishing Throne or this series enough.
My Rating: 
Have you read this series? You really must if you haven't already! It's spectacular! What are some of your favorite fae books?
Related Posts