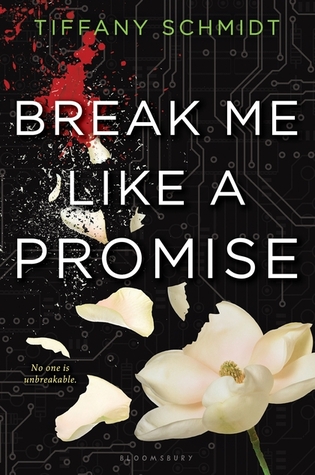 Break Me Like a Promise

by Tiffany Schmidt
Published by Bloomsbury Publishing USA on June 7th 2016
Genres: Young Adult, General, Love & Romance, Mysteries & Detective Stories
Pages: 304
Format: eARC
Source: Netgalley
Buy on Amazon
Goodreads


Magnolia Vickers' fairy tale happiness was ruined five months ago when her boyfriend, Carter Landlow, was killed. Now she's stuck watching as Penny Landlow and Char Zhu, the heirs of the other two black market organ crime families, come out in favor of H.R. 197 (The Organ Act) which would legalize a private industry of organ and transplant trade . . . and destroy the Families' business.
All Maggie's ever wanted was Carter, and to follow in her father's footsteps and head up the Vickers Family. Then she messes up big time: she accidentally downloads a virus onto her father's computer, allowing freelance IT guy, Alex, to make a copy of confidential Family information when she sneaks the computer off-estate for him to fix. He'll only return it in exchange for a kidney transplant, which he desperately needs. Finding a match takes longer than Maggie expects, and as Alex's health declines, she's surprised to find herself falling for him. Like it or not, Maggie must accept that her first love and the Business as she knew it are gone forever. She's not going to be handed a happily ever after. If she wants to save Alex's life and carve out a place for herself in the business of legalized organ trade, she's going to have to fight for it.
With searing romance, thrilling tension, and mystery perfect for fans of Holly Black and Kimberly Derting, this second book in the stunning Once Upon a Crime Family series will hold readers spellbound.
I received this book for free in exchange for an honest review. This does not affect my opinion of the book or the content of my review.
Why Did I Read?
I was really excited when I found out that this was going to be from Maggie's POV! I really wanted to see what her story was.
My Thoughts:
I liked this one a LOT more than its predecessor! I think I just absolutely loved reading in Maggie's POV. Magnolia Vickers has such a fiery personality and a take charge attitude — she knows what she wants and she will do what she needs to get it. I kind of want to be her. In Break Me Like A Promise, we learn more about the Organ Act and how that's impacting the Family business. We also see how much bright, spunky Maggie is suffering in her grief after the events of the previous book. It was truly heartbreaking but I think that seeing her at a low made her climb back up so much more amazing.
Maggie has been determined to be a strong figurehead in the Family business since she was a little girl. She's been looked down on for being a girl and has been told she "can't" because she's a girl ever since she can remember. So she's spent her life being knowing the business through and through and she knows she could be poised to lead. She is strong, she is tough, she is pretty incredible. She looks at the business as numbers and profits and it's not until a snafu occurs and brings Alex into her life that she finally takes a look at the patients her family's illegal organ business treats.
I just loved this story, seeing Maggie deal with her grief and then being able to empathize and see patients as people and not just money and pure business. I absolutely loved her growth and character arc. I really enjoyed seeing Maggie and Alex's interactions and thought the romance was perfectly paced unlike what I thought in Hold Me when I thought things moved crazy fast.
I also really liked the fact that this book made me think quite a bit — there is a lot of debate and pros and cons discussed about the Organ Act and how it would impact their business. It just made me think of the flaws in our system of organ transplants but also realizing there is no easy answer. There's just a lot of things to think about when it comes to organ transplants and I liked that Break Me in particular made me think so much about it when I hadn't before.
In Short…
I really enjoyed reading Maggie's story! I loved reading from her POV with her fiery personality and really liked seeing her find love again.  The romance was so cute and I very much loved seeing the progression of their feelings. The organ trafficking storyline is fascinating and gives a lot of food for thought and I do hope we get one more book!
My Rating: 
If you have read the first and it wasn't your favorite, I still highly recommend this as a fantastic companion! What did you think of this one?
Related Posts