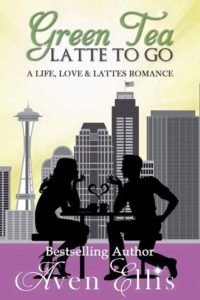 Green Tea Latte To Go

by Aven Ellis
Series: Love, Life & Lattes #1
on September 13, 2016
Genres: Romance, Contemporary
Pages: 286
Format: eARC
Source: Author
Buy on Amazon
Goodreads


Perfect Drink: Green tea latte with coconut milk and raw honey.

Perfect Fashion Icon: The Duchess of Cambridge. Always on point with her fashion, dressing appropriately for every occasion and not afraid to recycle things from her wardrobe, I truly admire her class and style.

Perfect Place: Seattle.

Perfect Activity for Relaxation: Yoga. I'm terrible at it, but I'm determined to perfect downward dog. Someday.

For Seattle blogger Payton James, life is all about trying to achieve perfection. Payton is determined to be her best self in all areas, and she refuses to rest until she achieves it.

However, an imperfect moment in a coffee shop completely changes Payton's life. When her drink order gets switched by mistake, Payton finds herself face-to-face with a gorgeous British man named Brooks. Payton is instantly attracted to the witty stranger who is quick with his words—and has a beautiful smile.

Brooks is an exotic veterinarian with a huge passion for animals. Heartache in his past has led him to focusing on his career out of fear of getting hurt again. But there's something about Payton that makes this vet want to know more about the bubbly blogger he has met via fate—and has him reconsidering his stance on love.

But will Brooks ever be free of his fears to truly open his heart? And will Payton's drive for perfection cost her the one thing she loves most? Or will she learn to embrace imperfections?

And maybe perfect is the one thing Payton doesn't want after all . . .
I received this book for free in exchange for an honest review. This does not affect my opinion of the book or the content of my review.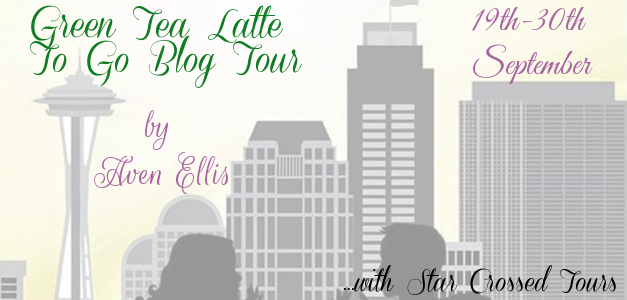 Aven Ellis' latest romance is so cute and I personally loved it because it takes place in MY city! I absolutely love when books take place where I'm from because it's just so cool to see places you go to or have been, in a story.
When I open a new Aven Ellis book I know exactly what is in store for me — a cute rom com that is sure to put a smile on my face and Green Tea Latte To Go is no different! In this one, we meet a hot exotic vet — Brooks, who is also British. He loves animals, loves his job and I absolutely loved seeing his passion for his job shine through. It's just adorable.
Then we have Payton. She is a blogger who blogs about lifestyle and also a Kate Middleton fashion blogger. Her family doesn't approve of her blogging career aspirations and she always strives for perfection in everything she does. Until a mixed drink order changes everything and brings Brooks and Payton together. Not to mention a second meet cute that involves a pet pig – Mr. Not Bacon. It's adorable and hilarious and the stuff rom com movies are made of.
I loved seeing Payton and Brooks come to know each other and to see them overcome each of the things they're struggling with. I liked seeing them grow together and trust each other. I also so enjoyed seeing Payton and Brooks fall in love with Seattle as a backdrop! And it's just so appropriate that it all started in a coffee shop. 🙂
In Short…
If you're looking for something to curl up with as the fall weather sets in, this is it! Get your hands on this book and a hot drink (a green tea latte to go, perhaps? or black coffee like Brooks) and settle in for a sweet romance! And trust me, you want to meet Mr. Not Bacon!
My Rating: 
Related Posts