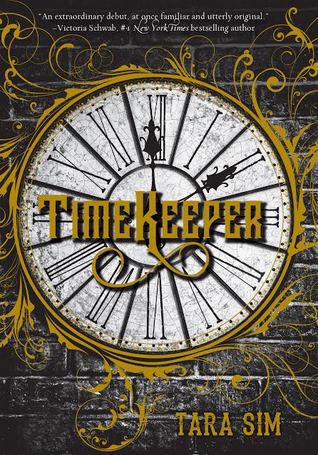 Timekeeper

by Tara Sim
on November 8th 2016
Genres: Young Adult, Steampunk, LGBT, Fantasy & Magic
Pages: 424
Format: Audiobook
Length: 8 hours and 48 minutes
Buy on Amazon
Goodreads


Two o'clock was missing.
In an alternate Victorian world controlled by clock towers, a damaged clock can fracture time—and a destroyed one can stop it completely.
It's a truth that seventeen-year-old clock mechanic Danny Hart knows all too well; his father has been trapped in a Stopped town east of London for three years. Though Danny is a prodigy who can repair not only clockwork, but the very fabric of time, his fixation with staging a rescue is quickly becoming a concern to his superiors.
And so they assign him to Enfield, a town where the tower seems to be forever plagued with problems. Danny's new apprentice both annoys and intrigues him, and though the boy is eager to work, he maintains a secretive distance. Danny soon discovers why: he is the tower's clock spirit, a mythical being that oversees Enfield's time. Though the boys are drawn together by their loneliness, Danny knows falling in love with a clock spirit is forbidden, and means risking everything he's fought to achieve.
But when a series of bombings at nearby towers threaten to Stop more cities, Danny must race to prevent Enfield from becoming the next target or he'll not only lose his father, but the boy he loves, forever.
I really didn't know much about Timekeeper going into it but oh I was so pleasantly surprised as I got swept up in this story! It ended up being my FIRST five star read of the year! I'm also so glad I listened to it on audio because the narration was so amazing! I seriously loved it.
In Timekeeper we are in an alternate London where there are clock towers that regulate time — literally. If something happens to a clock tower, time can skip, slow or even stop. If time stops, the whole town controlled by the clock tower is frozen. There are clock mechanics that take care of and fix the clock towers and keep them (and time!) running smoothly. Danny is one such mechanic but he's been struggling ever since a scary accident he was involved in.
I absolutely loved getting to know Danny and his best friend Cassie and most of all the developing relationship with Colton. Totally amazing shippable ship! Meanwhile, there are little excerpts of the clock spirit mythology which I personally found fascinating. It all was just so unique. The pacing is slower but I felt it was more character focused and I enjoyed every single aspect of it. I highly recommend if you're looking for something unique and want something shippy!
My Rating: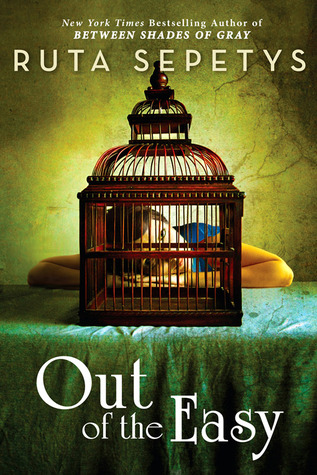 Out of the Easy

by Ruta Sepetys
Published by Penguin on 2014
Genres: Young Adult, Historical, United States, 20th Century, Mysteries & Detective Stories, Social Themes, Self-Esteem & Self-Reliance, Young Adult Fiction
Pages: 346
Format: Audiobook
Length: 9 hours and 51 minutes
Source: Library
Buy on Amazon
Goodreads


"A haunting peek at the life of a teenage girl in 1950s New Orleans."--Entertainment Weekly
It's 1950, and as the French Quarter of New Orleans simmers with secrets, seventeen-year-old Josie Moraine is silently stirring a pot of her own. Known among locals as the daughter of a brothel prostitute, Josie wants more out of life than the Big Easy has to offer. She devises a plan get out, but a mysterious death in the Quarter leaves Josie tangled in an investigation that will challenge her allegiance to her mother, her conscience, and Willie Woodley, the brusque madam on Conti Street.
Josie is caught between the dream of an elite college and a clandestine underworld. New Orleans lures her in her quest for truth, dangling temptation at every turn, and escalating to the ultimate test.
With characters as captivating as those in her internationally bestselling novel Between Shades of Gray, Ruta Sepetys skillfully creates a rich story of secrets, lies, and the haunting reminder that decisions can shape our destiny.
Another five star read! The audio is perfection. And Ruta Sepetys is definitely an auto-buy auto-read author for me! She tells these great historical fiction stories and builds such realistic wonderful characters. I loved Josie and was wholly invested in her dreams. There is also the most amazing supporting cast of characters that are just amazing. Patrick, her best friend; Willie, stern, yet more family to her than her own estranged mother; Jessie, so swoony in his motorcycle jacket; Cokie who believes in her so much — the list goes on. Every single character comes alive in this story.
Ruta Sepetys also crafts such intricate historical details into the setting and descriptions that it's like you're there, in the 1950s, in the French Quarter of New Orleans. I've never even been to New Orleans and I felt like I had experienced it. It's just beautifully written.
There's a hint of a mystery in this story, but really, at its heart, the story is about Josie and her dreams and her journey to achieving them. It's about family and what really makes a family — it's not about blood so much as love, loyalty, heart. I can't recommend this one enough!
My Rating: 
These audiobooks are so amazing! Have you listened to these yet? What are you waiting for? I highly recommend them!
Related Posts