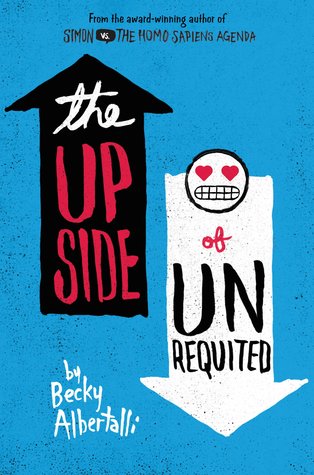 The Upside of Unrequited

by Becky Albertalli
Published by HarperCollins on April 11th 2017
Genres: Young Adult Fiction, Romance, Contemporary, Social Themes, Friendship, LGBT
Pages: 352
Format: Audiobook
Length: 7 hours and 58 minutes
Source: Publisher
Buy on Amazon
Goodreads


From the award-winning author of Simon vs. the Homo Sapiens Agenda comes a funny, authentic novel about sisterhood, love, and identity.

Seventeen-year-old Molly Peskin-Suso knows all about unrequited love. No matter how many times her twin sister, Cassie, tells her to woman up, Molly can't stomach the idea of rejection. So she's careful. Fat girls always have to be careful.
Then a cute new girl enters Cassie's orbit, and for the first time ever, Molly's cynical twin is a lovesick mess. Meanwhile, Molly's totally not dying of loneliness—except for the part where she is. Luckily, Cassie's new girlfriend comes with a cute hipster-boy sidekick. If Molly can win him over, she'll get her first kiss and she'll get her twin back. There's only one problem: Molly's coworker, Reid. He's a chubby Tolkien superfan with a season pass to the Ren Faire, and there's absolutely no way Molly could fall for him.
Right?
I received this book for free in exchange for an honest review. This does not affect my opinion of the book or the content of my review.
The Sound:
I thought the narrator Arielle DeLisle did a fantastic job! Her voice for Molly was pretty much how I would imagine it and she did great distinctions between different characters. I'd definitely listen to other audiobooks by her!
The Story:
Let me start off by saying there was quite a bit I liked in The Upside of Unrequited Love but I just really wasn't a fan of the romance and a lot of aspects surrounding it really brought the book down for me. But let's focus on what I did like first.
Sister relationship! I love when books feature a prominent sister relationship! I may be biased because I have one but I think sister relationships are truly special. I really enjoyed seeing Molly and Cassie's relationship and how things change and how they deal with change as new people come into their lives.
Along those lines, I truly loved the focus on family and Molly's family dynamic. I always enjoy when I find YA stories with a family that is present, caring and supportive. Molly's moms take interest in their children's lives and there are such great conversations and discussions that they have with Molly! I think it's really important to see that in YA. There are just a lot of great messages in this book and I think it really shows the nuances of growing up and being in that (for lack of a better term) "young adult" period when you're just trying to figure everything out — about you, the people around you, relationships, LIFE. And for that, this book really nails it.
That romance, though. What drove me absolutely nuts is that as the reader you pretty much know which guy it is Molly ends up liking and ends up with. But! Then there's the other guy and it's not that Molly even likes him, you can tell she doesn't! But she continuously still hangs out with him and it goes back and forth – she hangs out with one, then the other. It's not really strictly speaking a triangle. That may actually have at least been better in my mind if she was trying to figure out which she liked better rather than just all this STUFF preventing her from ending up with the guy. Because of this, I feel like we didn't actually get as much interaction between the two of them than I would've liked and as such, the shippy feelings I wanted to have never surfaced completely. There were definitely moments that made me smile and totally sweet, cute moments but man, it all just got a bit too messy for me.
In Short…
The Upside of Unrequited Love has so many wonderful things to say about growing up! There's such a great focus on family and I so enjoyed Molly, her moms and her sister's role in her life! The romance situation unfortunately just really had a negative impact on my enjoyment of the book but I am almost the only person I know who had that issue. I think this YA contemporary is definitely worth checking out!
My Rating: 
Have you read this? What did you think? I'm curious if anyone else was bothered by the romance aspect!
Related Posts