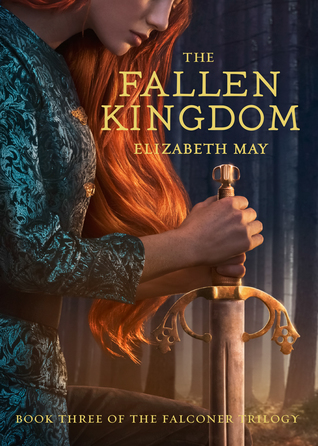 The Fallen Kingdom

by Elizabeth May
Series: The Falconer #3
Published by Chronicle Books on June 13th 2017
Genres: Young Adult Fiction, Fantasy, General, Fairy Tales & Folklore, Action & Adventure, Survival Stories
Pages: 400
Source: Borrowed
Buy on Amazon
Goodreads


The long-awaited final book in the Falconer trilogy is an imaginative tour-de-force that will thrill fans of the series. Aileana Kameron, resurrected by ancient fae magic, returns to the world she once knew with no memory of her past and with dangerous powers she struggles to control. Desperate to break the curse that pits two factions of the fae against each other in a struggle that will decide the fate of the human and fae worlds, her only hope is hidden in an ancient book guarded by the legendary Morrigan, a faery of immense power and cruelty. To save the world and the people she loves, Aileana must learn to harness her dark new powers even as they are slowly destroying her. Packed with immersive detail, action, romance, and fae lore, and publishing simultaneously in the UK, The Fallen Kingdom brings the Falconer's story to an epic and unforgettable conclusion.
Why Did I Read?
I have ONLY been anxiously awaiting this series finale since I read an ARC of The Vanishing Throne back in January of 2016 — it has been a LONG wait, let me just say!
My Thoughts:
Firstly, I just have to say that I feel like this series is so underrated! It is such an intense, amazing series and I want more people to check it out! There's historical fiction, action, fae, steampunk and a seriously kick ass heroine — you want to read it! The finale held up to the intense action as its predecessors and once the book started, it was pedal to the metal.
One of my favorite things about this series is the truly unique characters. I feel like Elizabeth May does such a fantastic job creating vivid characters with complex motivations and all, even the secondary characters, are wonderfully multi-dimensional. I also love the really awesome world that she's created because it's such a cool mix of 1800s Scotland and fantasy. You get to see and know more about the fae and their world in each subsequent book and I always wanted more because there are so many different layers. In The Fallen Kingdom, we get to see even more about the history of the fae and their world which was my favorite part.
This series gets darker with each book but I think there are enough light moments to balance it out perfectly. There are many scenes that made me smile, even amidst the ones that made me sob. But isn't that what makes a great book? One that runs you through the gamut of emotions because you're just so invested in the story? Or maybe all readers are just masochists. 😉
Overall, I thought this was a solid series finale with plenty of action and of course, has one of my favorite OTPs! I love love Kiaran and Aileana <3 All that being said, I had an issue with the ending and the more I thought about it, the more it bugged me and it ended up bumping my rating down a bit. I'm going to put it in a spoiler tag and if you've read the book, please find me on twitter and DM me to chat! View Spoiler »The time reversal REALLY bothered me — I feel like it undid all the growth that Aileana went through in the entire series. Aileana worked through so many fears and issues and it's been said that she "could never go back to her old life and parties" anymore but with this time reversal, isn't that exactly what's happening? I was left with too much of a "it was all just a dream" feeling and I didn't like that. If the time reversal had gone back a little less time, to maybe when the seal broke, I could have been more on board with that. But this just made it feel like everything that happened in the series was for naught. It's too bad that the very end disappointed me so much because I really do love this series. It just didn't sit well with me and felt… off. « Hide Spoiler
In Short…
A solid series finale that brings together favorite characters, features an awesome OTP, intense action and unique fantasy world. I highly recommend checking out this series!
My Rating: 
Have you read this series? If not, why not?? If you've read the finale, I'd love to talk to you!
Related Posts