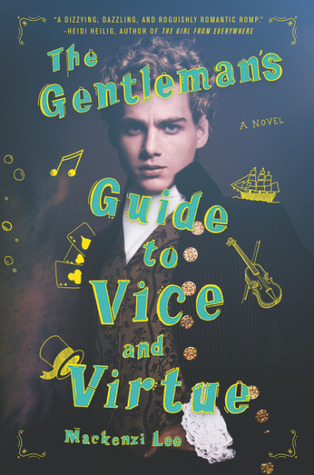 The Gentleman's Guide to Vice and Virtue

by Mackenzi Lee
Published by Katherine Tegen Books on June 27th 2017
Genres: Friendship, Historical, LGBT, Love & Romance, Siblings, Travel, Young Adult
Pages: 513
Format: ARC
Source: Borrowed
Buy on Amazon
Goodreads


Henry "Monty" Montague was born and bred to be a gentleman, but he was never one to be tamed. The finest boarding schools in England and the constant disapproval of his father haven't been able to curb any of his roguish passions—not for gambling halls, late nights spent with a bottle of spirits, or waking up in the arms of women or men.

But as Monty embarks on his Grand Tour of Europe, his quest for a life filled with pleasure and vice is in danger of coming to an end. Not only does his father expect him to take over the family's estate upon his return, but Monty is also nursing an impossible crush on his best friend and traveling companion, Percy.

Still it isn't in Monty's nature to give up. Even with his younger sister, Felicity, in tow, he vows to make this yearlong escapade one last hedonistic hurrah and flirt with Percy from Paris to Rome. But when one of Monty's reckless decisions turns their trip abroad into a harrowing manhunt that spans across Europe, it calls into question everything he knows, including his relationship with the boy he adores.
Why Did I Read?
I had heard a lot of early praise for it from some fellow bloggers! I was intrigued!
My Thoughts:
I really like historical fiction and this was such a fun filled romp with Monty and this friends! I like to think of it as… a 17th century spin on the movie Eurotrip with a more serious note. (Has anyone else seen that movie? It's hilarious, a bit ridiculous but lots of fun and highly enjoyable.) Monty is about to embark on his Grand Tour with his best friend Percy but things don't really go to plan. His father makes a chaperone go with them but things really get derailed shortly thereafter.
Besides being about Monty, Percy and Monty's sister Felicity traveling to all ends of Europe while being chased by a number of people, Gentleman's Guide focuses on friendship, loyalty, family and love. Monty is a difficult POV to read from sometimes because of his decisions and tendencies he falls back on but also he's very real and honest. I loved seeing him grow and learn and become the Monty we see at the end of the book. Not to mention, I absolutely adored him and Percy, the very live chemistry between the two of them and magnetic relationship they had! You want to read an OTP? Look no further!
The relationship between Monty and his sister Felicity is a difficult one due to familial circumstances but on this trip together, they are sort of thrown into each others lives more than normal. As a result, they actually finally discover more about each other and I do love those great sibling relationships. Plus Felicity! I love her! She is a take charge, no nonsense sort of gal and I am beyond excited that she will be getting her own book next year!
Besides loving all the characters, I was glued to the pages because of the nonstop action! I couldn't wait to see how things would turn out.
In Short…
Gentleman's Guide is a fantastic diverse historical fiction adventure featuring the nuances of friendship, love and finding yourself. Loved every single one of these characters plus could not put it down because the action keeps on coming! I highly recommend!
My Rating: 
What did you think of this one? Did it give you a slightly Eurotrip vibe? And tell me how excited you are for a Felicity book!!
Related Posts