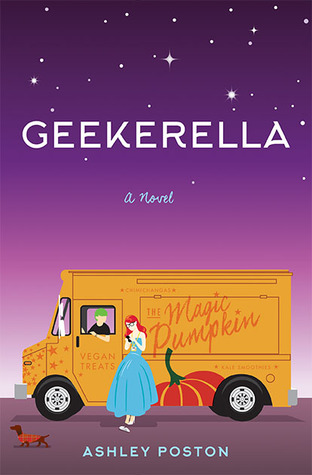 Geekerella

by Ashley Poston
Published by Quirk Books on April 4th 2017
Genres: Young Adult Fiction, Fairy Tales & Folklore, Adaptations, Romance, Romantic Comedy, Fashion & Beauty
Pages: 320
Format: eARC
Source: Netgalley
Buy on Amazon
Goodreads


Cinderella goes to the con in this fandom-fueled twist on the classic fairy tale. Part romance, part love letter to nerd culture, and all totally adorbs, Geekerella is a fairy tale for anyone who believes in the magic of fandom. Geek girl Elle Wittimer lives and breathes Starfield, the classic sci-fi series she grew up watching with her late father. So when she sees a cosplay contest for a new Starfield movie, she has to enter. The prize? An invitation to the ExcelsiCon Cosplay Ball, and a meet-and-greet with the actor slated to play Federation Prince Carmindor in the reboot. With savings from her gig at the Magic Pumpkin food truck (and her dad's old costume), Elle's determined to win…unless her stepsisters get there first. Teen actor Darien Freeman used to live for cons—before he was famous. Now they're nothing but autographs and awkward meet-and-greets. Playing Carmindor is all he's ever wanted, but the Starfield fandom has written him off as just another dumb heartthrob. As ExcelsiCon draws near, Darien feels more and more like a fake—until he meets a girl who shows him otherwise.
I received this book for free in exchange for an honest review. This does not affect my opinion of the book or the content of my review.
Why Did I Read?
Well, I love retellings and I also love all things fandom so this was basically a match made in heaven!
My Thoughts:
I loved this book so much! It's definitely one of my top favorites of the year. I remember feeling like I just wanted to cry because of how much I loved it. One of the biggest reasons is the aspect of fandom. I think fandom is such an amazing entity and while it can have its cons (ie: pushing people away from it because it seems like too big of a thing to get into) it is, at its core, just a conglomeration of people who all love something passionately and with an undying, all consuming sort of blazing love. It's special. It can bring all sorts of people together who may otherwise not have anything else in common! It's really just such a unique thing. And let me tell you, all the fandom references just spoke to my soul! My Lord of the Rings love, my Star Wars love, my FIREFLY LOVE. (Starfield gave me major Firefly feels and I have this really deep love of Firefly so basically it ended up making me feel that much more in sync with Elle.)
All the emphasis on fandom also had a great message about how these fictional stories CAN and DO have a tremendous impact on you as a person. They can teach you about life and they can also impact how you approach life! The stories may be fantasy or sci fi and "not real" but that doesn't mean they can't have a very real affect on you! These stories can reach out and show you that you're not alone or they can have a lifelong impact on you! I really liked how the story showed that.
The relationship between Elle and Damien was so You've Got Mail-esque and that's really one of my favorite tropes — of two people writing to the other and not knowing the other's identity. I think I love it because it gives so much freedom and allows so much honesty between the two people! I really enjoyed the Cinderella twists and touches that were incorporated because they were added so seamlessly that it felt so natural. I love it when a retelling is able to be done so well that it can stand as its own story without the reader expecting certain things at a certain point.
In Short…
If you love nerdy or geeky things or any sort of fandom in general, this book will seriously speak to your heart! The romance is also just so sweet and amazing, it will have you rooting for them the whole way through! A Cinderella retelling that I know I'll be revisiting again and again, I highly recommend!
My Rating: 
Have you read this one? What did you think? What are some other you've got mail-like books you'd recommend me?
Related Posts