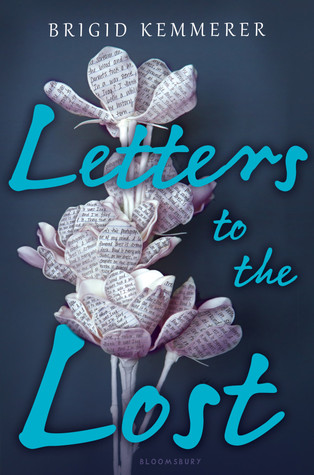 Letters to the Lost

by Brigid Kemmerer
Published by Bloomsbury Publishing USA on April 4th 2017
Genres: Young Adult, Love & Romance, Social Themes, Death & Dying, Adolescence, General
Pages: 304
Format: eARC
Source: Netgalley
Buy on Amazon
Goodreads


Juliet Young always writes letters to her mother, a world-traveling photojournalist. Even after her mother's death, she leaves letters at her grave. It's the only way Juliet can cope.

Declan Murphy isn't the sort of guy you want to cross. In the midst of his court-ordered community service at the local cemetery, he's trying to escape the demons of his past.

When Declan reads a haunting letter left beside a grave, he can't resist writing back. Soon, he's opening up to a perfect stranger, and their connection is immediate. But neither Declan nor Juliet knows that they're not actually strangers. When life at school interferes with their secret life of letters, sparks will fly as Juliet and Declan discover truths that might tear them apart.
I received this book for free in exchange for an honest review. This does not affect my opinion of the book or the content of my review.
My Thoughts:
I don't generally gravitate toward the heavier contemporaries. I don't really know why, I guess because when I read a contemporary I'm looking for something lighter? Anyway, I don't read heavier ones often, I tend to be pretty picky when it comes to the more serious ones. That being said, I'm really glad I read Letters to the Lost!
Juliet's mother died and she is coping by writing her letters at her grave but who knew someone would find her letters and start writing back? There's something about writing to someone who doesn't really know who you are and Juliet and Declan are able to reveal more of themselves than they ever would've otherwise. They're able to be honest and share without feeling judged which is something they both needed. I really enjoyed seeing them be able to support one another despite not knowing who the other was.
This book was really hard emotionally though. Both Juliet and Declan's stories are just so heartbreaking but sometimes the stories that hurt you are the ones that stay with you. This book has a lot to say about family and friendships and finding the things that matter. I loved the friendship aspect in this one because both Juliet and Declan have these amazing friends that form such a great support system for them — even among everything else that's going on, they're this constant rock and I really enjoyed seeing how close Rev and Rowan are to Declan and Juliet.
In Short…
This book is both emotional, heartbreaking and heavy, dealing with some tough issues but at the same time featuring supportive friendships and overall, the book left me with a hopeful feeling. Like, even though it made me unspeakably sad, I became very invested in these characters and the tone of the book is still uplifting. I highly recommend and this is coming from someone who doesn't read "heavier" contemps often!
My Rating: 
Have you read this one? What did you think? What was your favorite aspect of this one?
Related Posts