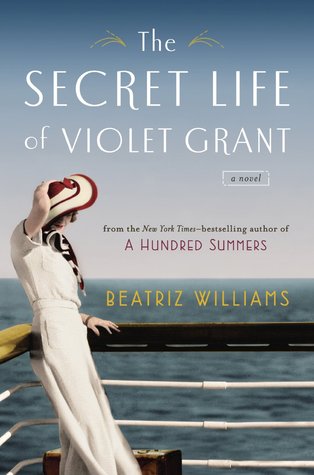 The Secret Life of Violet Grant

by Beatriz Williams
Published by Penguin on May 5th 2015
Genres: Fiction, Historical, Fiction, Romance, General
Pages: 528
Format: Audiobook
Length: 14 hours and 42 minutes
Source: Library
Buy on Amazon
Goodreads


"Passion, redemption, and a battered old suitcase full of secrets: the New York Times-bestselling author of A Hundred Summers returns with another engrossing tale of lost love and female ambition that crosses generations. Manhattan, 1964. Vivian Schuyler, newly graduated from Bryn Mawr College, has recently defied the privilege of her storied old Fifth Avenue family to do the unthinkable for a budding Kennedy-era socialite: break into the Mad Men world of razor-stylish Metropolitan magazine. But when she receives a bulky overseas parcel in the mail, the unexpected contents draw her inexorably back into her family's past, and the hushed-over crime passionnel of an aunt she never knew, whose existence has been wiped from the record of history. Berlin, 1914. Violet Schuyler Grant endures her marriage to the philandering and decades-older scientist Dr. Walter Grant for one reason: for all his faults, he provides the necessary support to her liminal position as a young American female physicist in prewar Germany. The arrival of Dr. Grant's magnetic former student at the beginning of Europe's fateful summer interrupts this delicate detente. Lionel Richardson, a captain in the British Army, challenges Violet to escape her husband's perverse hold, and as the world edges into war and Lionel's shocking true motives become evident, Violet is tempted to take the ultimate step to set herself free and seek a life of her own conviction with a man whose cause is as audacious as her own. As the iridescent and fractured Vivian digs deeper into her aunt's past and the mystery of her ultimate fate, Violet's story of determination and desire unfolds, shedding light on the darkness of her years abroad and teaching Vivian to reach forward with grace for the ambitious future--and the love--she wants most"--
My Thoughts:
This was my first introduction to this author and I definitely want to read the rest of her backlist! This historical fiction had dual timelines alternating between the early 1900s and 1960s and it was so riveting! We follow Vivian Schuyler as she strives to earn a place as a journalist for the Metropolitan magazine and she receives a mysterious briefcase in the mail. It turns out it belonged to her aunt, Violet Grant, and the flashbacks revolve around Violet Grant's life as a scientist and a woman in the early 1900s. I was wholly invested in finding out what happened to Violet, why that briefcase came to Vivian and what happened in the past, as well as being invested in Vivian's journey and her romance with Dr. Paul. Vivian is such a great character, she's just so passionate about what she wants and she made me laugh more than once.
The mystery aspect was great and I just liked the two leading ladies here so much. Strong, independent heroines! I definitely recommend!
My Rating: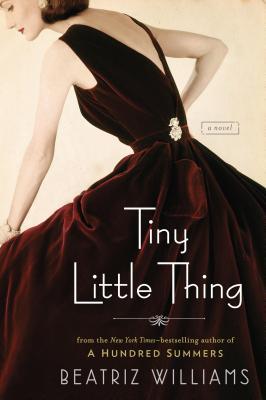 Tiny Little Thing

by Beatriz Williams
Published by Penguin on June 23rd 2015
Genres: Fiction, Romance, Historical, General
Pages: 368
Format: Audiobook
Length: 11 hours and 24 minutes
Source: Library
Buy on Amazon
Goodreads


The New York Times bestselling author of The Secret Life of Violet Grant returns with the story of another Schuyler sister, a young woman embroiled in politics, passion, and dangerous secrets.... In the summer of 1966, Christina "Tiny" Hardcastle stands on the brink of a breathtaking future. Unlike her spirited sisters, Tiny was the consummate well-behaved debutant, poised and picture-perfect, raised to serve as a consort to a great man. Now, as her handsome husband, Frank, runs for a Massachusetts seat in the U.S. House of Representatives, that long-sought destiny lies nearly within reach. But behind her glamorous facade, Tiny's flawless life is cracking. She and Frank both have secrets in their pasts that could shatter their political ambitions and the intricate truce of their marriage. So when two unwelcome visitors arrive at the Hardcastle family's Cape Cod estate—Frank's cousin Caspian, a Vietnam war hero who knows a thing or two about Tiny's hidden past, and an envelope containing incriminating photographs—Tiny is forced into a reckless gamble against a house that always, always wins…
My Thoughts:
This is a companion following another of the Schuyler sisters! Tiny is very different than Vivian and I have to admit when I first started the book, I was a little thrown off. I started listening to it right after finishing The Secret Life of Violet Grant and since it has the same narrator that definitely didn't help with getting used to the same voice being a much different character than what I had that voice associated with. Tiny is used to filling that "perfect" role and doing everything that people expect of her because she doesn't want to let anyone down. This definitely provided some frustration to me because I just wanted her to stand up for herself and just screw everyone else so badly! However, she does have a great character arc as she figures out how to be her own self.
One of my favorite things in this one is her relationship with her sister Pepper. She had never been close with Pepper or Vivian so seeing that relationship here with Pepper made me really happy. What can I say, I love sister relationships in books! I loved the drama in this one and had big heart eyes for Caspian because he is just the most good hearted man ever.
I'm definitely eager to check out Pepper's book after this!
My Rating: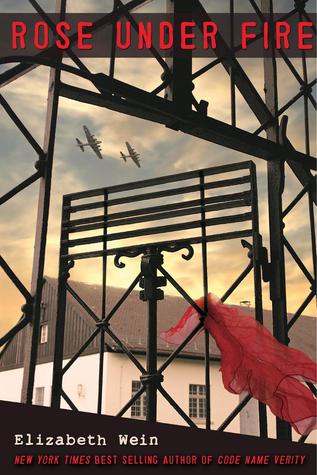 Rose Under Fire

by Elizabeth Wein
Published by Disney Electronic Content on September 10th 2013
Genres: Young Adult, Historical, Holocaust, Action & Adventure, General, Social Themes, Friendship
Pages: 368
Format: Audiobook
Length: 11 hours and 40 minutes
Source: Library
Buy on Amazon
Goodreads


While flying an Allied fighter plane from Paris to England, American ATA pilot and amateur poet, Rose Justice, is captured by the Nazis and sent to Ravensbrück, the notorious woman's concentration camp. Trapped in horrific circumstances, Rose finds hope in the impossible through the loyalty, bravery and friendship of her fellow prisoners. But will that be enough to endure the fate that's in store for her? Elizabeth Wein, author of the critically-acclaimed and best-selling Code Name Verity, delivers another stunning WWII thriller. The unforgettable story of Rose Justice is forged from heart-wrenching courage, resolve, and the slim, bright chance of survival.
My Thoughts:
I've been meaning to read this one for years! Code Name Verity is an all time favorite and I don't know why it took me so long to finally get to this companion! This historical fiction centering on Rose, captured in a concentration camp during WWII, is a tough read. I think it's such an important book but it's heavy, so prepare yourselves mentally. The things that happened in those concentration camps were just so atrocious and it's hard to read (or in my case, listen). I thought Elizabeth Wein did a great job telling Rose's story among the events of what happened at Ravensbrook.
I didn't like this one as much as Code Name Verity mostly because I just loved Maddie and Verity's friendship so much and I sort of missed that in this story. However, it's just a different type of story. It's heartbreaking and I recommend it!
My Rating: 
Which of these have you read? Do you have any historical fiction books you would rec me? I've been reading quite a few historical fictions this year and I'm really glad I am!
Related Posts