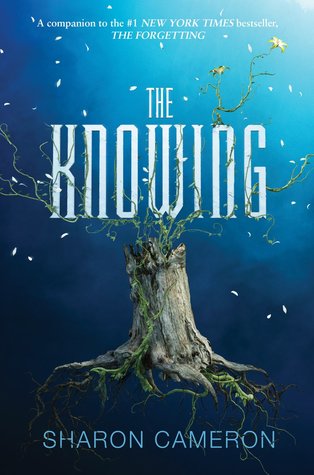 The Knowing

by Sharon Cameron
Published by Scholastic Inc. on October 10th 2017
Genres: Young Adult, Science Fiction, Fantasy & Magic, Love & Romance
Pages: 448
Format: ARC
Source: Borrowed
Buy on Amazon
Goodreads


Samara is one of the Knowing, and the Knowing do not forget. Hidden deep in the comfort and splendor of her underground city, a refuge from the menace of a coming Earth, Samara learns what she should have never known and creates a memory so terrible she cannot live with it. So she flees, to Canaan, the lost city of her ancestors, to Forget.Beckett has flown through the stars to find a dream: Canaan, the most infamous social experiment of Earth's antiquity. Beckett finds Samara in the ruins of the lost city, and uncovers so much more than he ever bargained for -- a challenge to all he's ever believed in or sworn to. When planets collide and memories clash, can Samara and Beckett save two worlds, and remember love in a place that has forgotten it?At once thought-provoking and utterly thrilling, this extraordinary companion novel to Sharon Cameron's #1 NEW YORK TIMES bestselling THE FORGETTING explores the truth and loss that lie within memory, and the bonds that hold us together.
I received this book for free in exchange for an honest review. This does not affect my opinion of the book or the content of my review.
Why Did I Read?
I loved The Forgetting and was ecstatic to learn that there would be a companion novel!
My Thoughts:
The Knowing takes place hundreds of years after the events of The Forgetting and there have been a lot of things happening since then! Right off the bat, you realize that this new society in New Canaan is something different and there are people who Know and they are different and special and never forget. It sort of spins what we knew in The Forgetting on its head and I was immediately intrigued and interested to find out just what happened in the last few hundred years and what's going on now.
I really liked Samara and Beckett! It took me a bit to warm up to them just because I was really irritated with Jill, Beckett's friend and the slight triangle-y vibe there. Beckett and Jill are from Earth and they're here to explore and find out what happened to the expedition that left from Earth decades ago. We get a more information about Earth, the status of Earth and that question from The Forgetting "why didn't Earth ever come?" It was really fascinating to see the little things in The Forgetting that tie in to things in The Knowing! I liked the oh! or aha! moments as I read.
I really do love this unique setting, the things surrounding the event of Forgetting and also what people do to get what they want. There are just so many cool things going on in this story and it truly is so original! I love it.
Sam and Beckett have a very slow burn romance and I liked seeing them begin to trust each other even as they both have their own agendas. They complement each other so well. I couldn't help but compare them to Gray and Nadia though and while I did love Gray and Nadia more, Sam and Beckett are not far behind!
In Short…
This one starts off a bit slow in my opinion but rapidly picks up! The Knowing will keep you on the edge of your seat as you try to figure out the secrets of New Canaan and the Knowing, all the while desperately hoping everyone you love stays safe! It's definitely an adventure and a great companion novel! I highly recommend!
My Rating: 
Have you read this? What did you think? If you haven't read this series yet, I can't recommend it enough! It's so unique! I'm curious to hear your thoughts if you've read! Leave me a comment and let me know!
Related Posts