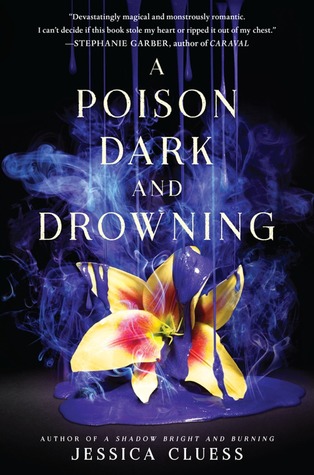 A Poison Dark and Drowning (Kingdom on Fire, Book Two)

by Jessica Cluess
Published by Random House Children's Books on September 19th 2017
Genres: Young Adult Fiction, Fantasy, General, Romance, Action & Adventure
Pages: 432
Format: eARC
Source: Netgalley
Buy on Amazon
Goodreads


The magicians want her to lead. The sorcerers want her to lie. The demons want her blood. Henrietta wants to save the one she loves. But will his dark magic be her undoing?

Henrietta doesn't need a prophecy to know that she's in danger. She came to London to be named the chosen one, the first female sorcerer in centuries, the one who would defeat the bloodthirsty Ancients. Instead, she discovered a city ruled by secrets. And the biggest secret of all: Henrietta is not the chosen one.

Still, she must play the role in order to keep herself and Rook, her best friend and childhood love, safe. But can she truly save him? The poison in Rook's system is transforming him into something monstrous as he begins to master dark powers of his own.

So when Henrietta finds a clue to the Ancients' past that could turn the tide of the war, she persuades Blackwood, the mysterious Earl of Sorrow-Fell, to travel up the coast to seek out strange new weapons. And Magnus, the brave, reckless flirt who wants to win back her favor, is assigned to their mission. Together, they will face monsters, meet powerful new allies, and uncover the most devastating weapon of all: the truth.
I received this book for free in exchange for an honest review. This does not affect my opinion of the book or the content of my review.
Why Did I Read?
I really enjoyed the first book in the series, A Shadow Bright and Burning and have been eager to see what is going to happen next!
My Thoughts:
So one of the main things that I really love about this series is the backdrop of Victorian England– but with magic! Magicians and sorcerers and monsters and hints of other worlds out there. It appeals to my love of all things fantasy combined with historical fiction plus Victorian England era. It's a lot of my favorite things all together.
In Poison Dark and Drowning we get a more expansive look at this world and a little more history behind magicians, sorcerers and witches. I loved all of that because it's just so interesting! I like knowing more about the magic and the events that have led Henrietta to this point.
The story itself is fast paced and I found myself engrossed and turning the pages as fast as I could. I liked seeing the progression of some characters as well! The one thing that really holds me back with this series is Henrietta's love…shape. I was just getting a bit of love interest whiplash when reading. I'll be honest, I'm just not a fan of Rook and the beginning of the book just made me even more meh on him. I liked Blackwood in the first book but then things happen in this one… *being purposefully evasive for spoiler reasons* And honestly as a whole, I like Magnus the best. I'm really interested to see what becomes of all this in the last book! But because of the love shape incongruity… it really knocked my enjoyment of the book down slightly. You know me. I like those slow burn, epic fantasy romances.
In Short…
I really enjoyed this sequel and can't wait to see how it all ends! Magic, sorcerers, Victorian England – it's all a few of my favorite things! Toss in an exciting plot and you've got this great series! I highly recommend for fantasy fans – who maybe won't mind a bit of a love-shape.
My Rating: 
Have you read this yet? What did you think? I have thoughts on a particular character especially pertaining to events at the end, so definitely message me to discuss if you want!
Related Posts