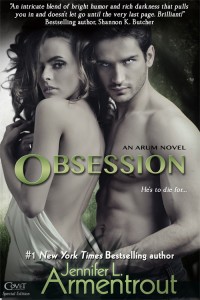 Obsession

by Jennifer L. Armentrout
Published by Hodder & Stoughton General Division on June 4th 2015
Pages: 400
Format: eBook
Goodreads


Hunter is a ruthless killer, and the Department of Defense has him firmly in their grasp, which usually doesn't chafe too badly because he gets to kill bad guys. Most of the time he enjoys his job. That is, until he's saddled with something he's never had to do before: protect a human from his mortal enemy. Serena Cross didn't believe her best friend when she claimed to have seen the son of a powerful senator turn into something ... unnatural. Who would? But then she witnesses her friend's murder at the hands of what can only be an alien, thrusting her into a world that will kill to protect their secret. Hunter stirs Serena's temper and her lust despite their differences. Soon he's doing the unthinkable - breaking the rules he's lived by, going against the government to keep Serena safe. But are the aliens and the government the biggest threats to Serena's life ... or is it Hunter?
HOLY CRAP. Okay. Let me just say, I've been waiting for Obsession to come out for what feels like forever and as soon as it hit past 12 am on May 31, I realized it was live and I happily 1-clicked it onto my Kindle and into my hot little hands. Hurray! I honestly considered staying up and reading but that would have really killed me the next day so I had to wait almost ALL day before I got home and settled down and devoured it in one sitting. I mean, maybe I could've read slower, savored it a bit more? Nah. We all know what Hunter would say to that!
Obsession is set in the Lux world and Hunter is an Arum. An oh-holy-hotness-Batman! kind of Arum. Going into it, I was really excited but also a little anxious because if you've read the Lux series (which is not needed for this standalone but seriously, go read it because it's awesome), then you have this ingrained sense of "omg kill all the Arum".
Well, Hunter is an Arum. He is like a little killing machine. He embodies power. He practically oozes control, strength and… a certain wildness. He uses his bad ass killing abilities working for the Department of Defense and one day he gets called to work an interesting job. He has to protect a woman, Serena Cross, whose life is in danger because of what she's seen and what she may know. The words "Hunter" and "protect" don't usually fit in the same sentence together but these two are thrown together and then you get whisked off in their story.
"I didn't watch over them. I didn't protect them. It wasn't in my nature and the officers knew that. I wasn't the good guy here. There was a good chance I'd kill Ms. Cross."
I'm going to be saying this a lot but wow, I really loved Hunter! He has a huge ego and the whole bad boy vibe going on but he's so much more! He has a human side — something he really would be vehemently denying. He is powerful. It's a little scary the body count he racks up. But you can't help being impressed and in awe of his skill. Serena compares him to a panther. The comparison is spot on because that is so completely Hunter — a predator with a raw, dangerous beauty. And yet! Amongst all of that, he can still have a softer aspect that you catch glimpses of. He creates beautiful, intricate woodwork and also… attempts at carving horses. Haha. And he cooks too!
Serena is also amazing. With all this craziness flying at her and her life basically blowing up in her face, she still manages to keep her head. She has a smart mouth and dishes everything right back at Hunter. I loved her smart-ass remarks to Hunter; their dynamic is awesome! And I loved that Hunter, this huge force to be reckoned with, can be so enraptured with Serena. Their chemistry is so strong, it could probably short circuit my Kindle. For all you Lux readers, remember a certain scene when Katy's laptop fizzed out? Yeah, let's just say, whole generations of laptops would've blown up. Or… froze over? You get my point. The steaminess level is high and really, what else would it be if Hunter is involved??
The story line is super intriguing because I had to keep reevaluating what I thought I knew previously and take into consideration everything from THIS side of the story. This is pretty crazy because the lines are all blurred. It's not simply Luxen = good and Arum = bad. There's good and bad in each race which is kind of a duh statement but I never gave it a second thought in the Lux series. Arum were evil. Period. This book changes all of that. It's not black and white! And you can't simply just take a side in this alien war. You realize that this is like any other war — essentially each side can be so alike but they're battling one another over some disagreement, some crisis or some revenge. It opens your eyes and you start looking at the individuals. It's a little unsettling because I've gotten used to the "kill all Arum!" mindset and this brings in so many different aspects into the picture. For a second I had to sit back and just think, "wait, what? This is so crazy!" And I LOVE that. JLA, you are so awesome. =)
"'You speak of love?' I shook my head as I clutched the keys. 'Very foolish to rely on a human emotion to protect her.'

'It's also very foolish to think we're incapable of being more human than Arum.'"
One of my favorite parts of this book was the fact that it was in dual POV. I absolutely LOVED being in Hunter's head. You see this swirl of Arum wildness and human qualities and his inner battles with himself. And it was so great to see his development throughout. Seriously, JLA does character development like no one else. Getting into both Hunter and Serena's heads made everything so real and it was great seeing their reactions to each other. Plus, some of Hunter's thoughts are pretty hilarious.
And! Another favorite part is the fact that there is a brief sighting of a certain green-eyed Luxen! Yes, Daemon! The events of Obsession take place after Opal and you will see Daemon somewhere in here. Which brings me to the question… Daemon or Hunter? They are so different – I mean, literally, one is light and one is dark. As different as they are, they both have an incredible love for their family. Which one do YOU choose?
Anyway, this book was incredible, as all JLA works are! Plenty of action, humor, smexiness and a whole lot of Hunter bad-assery (is that a word…?) You get a very different outlook on the Luxen and Arum. Definitely read this if you are a Lux fan! And even if you aren't, this is a standalone and will still make sense without having read any of the Lux series. Bottom line: go read it!! This makes me even more excited for Origin! August can't come soon enough!
My Rating: 
What did you guys think of Obsession?? Who do you love more, Hunter or Daemon? Are they tied? How crazy was it to see things from this side of the story? Leave me a comment and let me know!
Related Posts