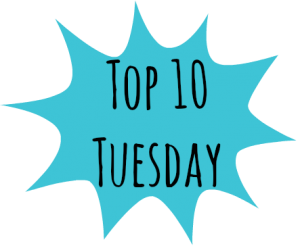 Top Ten Tuesday is a weekly bookish meme hosted by the Broke and the Bookish!
I basically really really fail at today's Top 10 Tuesday. I know there have been so many times when people gape at me or yell at me in caps because I STILL haven't read something that I really must read. But when I sat down to list them out? I drew a big fat blank. So you all can do me a favor and let me know what YOU want to recommend to me! Something you think I'd adore or something you can't believe I have yet to read? Let me know! In the meantime… here are the four I came up with!
1. The Lunar Chronicles by Marissa Meyer: I've been MEANING to read these. I feel like I would love them. Rebecca, I can see you about to respond to this in caps… Soon, I swear!
2. Colleen Hoover books: The general response when I say I've only read Maybe Someday by her is somewhere between "what?!" "go do it!" or just a raised eyebrow look. I know, I know. I've met her. I own Slammed, Hopeless and Losing Hope. I will get to it!
3. Bloodlines series by Richelle Mead: I don't even know why I haven't read it yet. Maybe because I don't own all of them, just the first. I know I'll love it! I can't wait for more Adrian!
4. Winner's Curse by Marie Rutkowski: There was so much hype around this book and I wanted to read it SO badly especially as everyone shouted to read it! I will, I will!
Alright, that's all I came up with. What do YOU think I should read? Tell me!
Related Posts