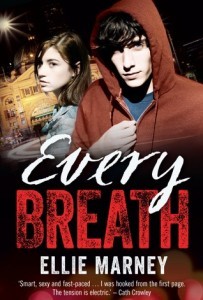 Every Breath

by Ellie Marney
Published by Tundra on October 14th 2014
Genres: Mysteries & Detective Stories, Young Adult
Pages: 352
Format: eARC
Source: Netgalley
Buy on Barnes and Noble
Goodreads


When James Mycroft drags Rachel Watts off on a night mission to the Melbourne Zoo, the last thing she expects to find is the mutilated body of Homeless Dave, one of Mycroft's numerous eccentric friends. But Mycroft's passion for forensics leads him to realize that something about the scene isn't right--and he wants Watts to help him investigate the murder.      While Watts battles her attraction to bad-boy Mycroft, he's busy getting himself expelled and clashing with the police, becoming murder suspect number one. When Watts and Mycroft unknowingly reveal too much to the cold-blooded killer, they find themselves in the lion's den--literally. A trip to the zoo will never have quite the same meaning to Rachel Watts again...From the Hardcover edition.
I received this book for free in exchange for an honest review. This does not affect my opinion of the book or the content of my review.
Why Did I Read?
I have heard so many raving things about this one! I loved mystery books when I was younger and Sherlock as the boy next door? I was hooked.
My Thoughts:
I really enjoyed this one! It's really unique, it's set in Melbourne, Australia so for me, it was interesting to be put in a different location. There were definitely some terms I wasn't used to at first so that took a bit to be acclimated to but then it was like second nature!
So, Rachel Watts and her next door neighbor James Mycroft start investigating the murder of a homeless man that they had previously befriended. Sometimes teen investigations can come off sounding incredulous but honestly, everything in Every Breath was smart and well put together and I loved how genius Mycroft was.
Mycroft is this brooding guy that is himself a bit of a mystery, at least where his past is involved. We get brushes of it which only intrigues me more (which is why I need the next book like now) and it's interesting how that works into his friendship with Watts. Watts hates being in the city, after living her whole life in the country, but the only good thing is Mycroft and her other friends from school. I adored their friendship and then the beginning of their relationship. This is the stuff OTPs are made of, you guys!
The character development is really amazing. It's the kind of story telling that pulls you into the minds of the characters and make them seem so tangible and real. The mystery aspect actually was very much a mystery to me. I'm not sure about the rest of you, but I totally didn't figure it out until near the end.
In Short…
Do you love to root for OTPs with all your heart and soul? Read this. Do you like mystery stories where it's actually sort of genius and it does not at all come off as implausible with teen investigators? Read this! Do you like the idea of Sherlock as the boy next door?? (The answer to this should always be yes) Read this!
My Rating: 
Related Posts