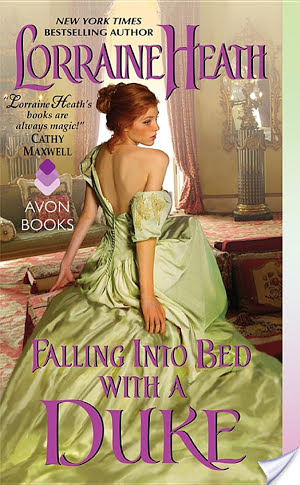 Falling Into Bed with a Duke

by Lorraine Heath
Series: The Hellions of Havisham #1
Published by HarperCollins on October 27th 2015
Genres: Fiction, Romance, Historical, Regency
Pages: 384
Format: eARC
Source: Publisher
Buy on Amazon
Goodreads


In the first in a dazzling new series, New York Times bestselling author Lorraine Heath introduces the Hellions of Havisham—three charismatic rogues destined to lose their hearts . . .
After six unsuccessful Seasons, Miss Minerva Dodger chooses spinsterhood over fortune-hungry suitors. But thanks to the Nightingale Club, she can at least enjoy one night of pleasure. At that notorious establishment, ladies don masks before choosing a lover. The sinfully handsome Duke of Ashebury is more than willing to satisfy the secretive lady's desires—and draws Minerva into an exquisite, increasingly intimate affair.
A man of remarkable talents, Ashe soon deduces that his bedmate is the unconventional Miss Dodger. Intrigued by her wit and daring, he sets out to woo her in earnest. Yet Minerva refuses to trust him. How to court a woman he has already thoroughly seduced? And how to prove that the passion unleashed in darkness is only the beginning of a lifetime's pleasure . . . ?
LORRAINE HEATH always dreamed of being a writer. After graduating from the University of Texas, she wrote training manuals, press releases, articles, and computer code, but something was always missing. When she read a romance novel, she not only became hooked on the genre, but quickly realized what her writing lacked: rebels, scoundrels, and rogues. She's been writing about them ever since. Her work has been recognized with numerous industry awards, including RWA's prestigious RITA®. Her novels have appeared on the USA Today and New York Times bestseller lists.
www.lorraineheath.com www.avonromance.com www.facebook.com/avonromance
I received this book for free in exchange for an honest review. This does not affect my opinion of the book or the content of my review.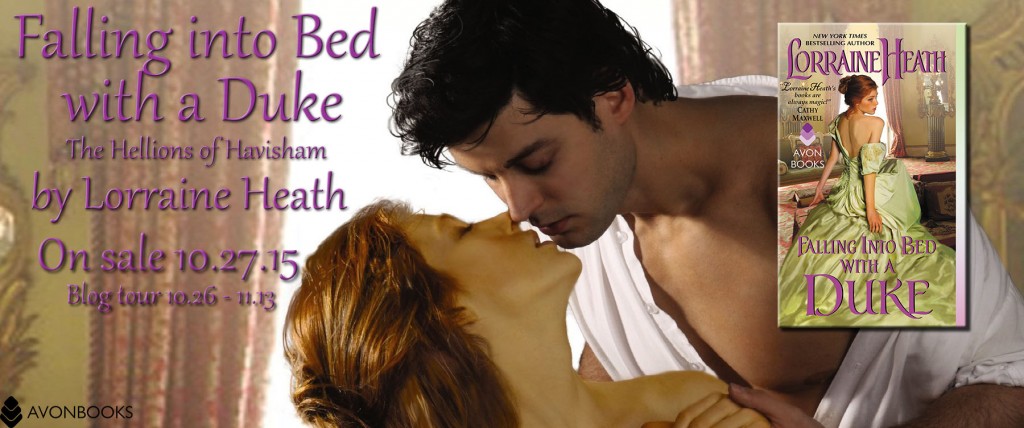 My Thoughts:
I recently got into historical romance this year and could not have been happier to discover this amazing genre that I now love!
In Falling Into Bed With A Duke, we meet Minerva Dodger. Minerva is quite tired of all the suitors that come after her for her dowry and don't spare a glance at her at all. I loved Minerva. She is this super spunky, smart, outspoken woman that men wrinkle their nose at because that's not how a respectable lady should act. Women shouldn't be able to talk politics or numbers or important matters. Minerva didn't care at all what they thought because she speaks her mind and has strong opinions and she won't disguise who she is. She wants to be herself and damn everyone else if that's not what they want in a wife. I just loved her personality and her strength and mental fortitude to suffer through all those societal expectations!
She has basically resigned herself to never marry and so she decides to go to the Nightingale Club to have one night of pleasure. All the women at the Nightingale wear masks to keep their identities secret and that is where she meets the Duke of Ashebury. I have to admit, it took me a bit to warm up to him! I just loved Minerva so much that I kept mentally side-eying him and his intentions. (I sound like Minerva's half brother, ha!)
Ashe discovers that this mystery woman has really captivated him and as he gradually suspects Minerva to be the one, he starts to court her openly. I really enjoyed seeing them together because it's obvious that they have a connection and a whole lot of chemistry! I think one of my favorite things about this book is that it really shows you the growth of their affections as you watch each character come to know themselves a little bit more. It's the type of story and development where you believe in their love so much and leaves you happy.
I have to mention that I also adored Minerva's parents. I loved her family and how much they clearly cared and loved each other. Her father, especially!! I have a soft spot for father-daughter relationships and this one is great.
In Short…
This was such a fantastic story with distinct, amazing characters! I loved Minerva and her forthrightness and Ashe with his devilishly handsome attitude. Historical romance fans will love this and if you haven't read historical romance yet, there's no time like now!
My Rating: 1/2
Purchase Falling Into Bed With A Duke: HarperCollins • Amazon • B&N • iTunes • Google Play
About the Author: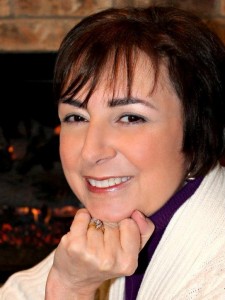 LORRAINE HEATH always dreamed of being a writer. After graduating from the University of Texas, she wrote training manuals and computer code, but something was always missing. After reading a romance novel, she not only became hooked on the genre, but quickly realized what her writing lacked: rebels, scoundrels, and rogues. She's been writing about them ever since. Her work has been recognized with numerous industry awards, including RWA's RITA® and a Romantic Times Career Achievement Award. Her novels have appeared on the USA Today and New York Times best-seller lists.
Related Posts