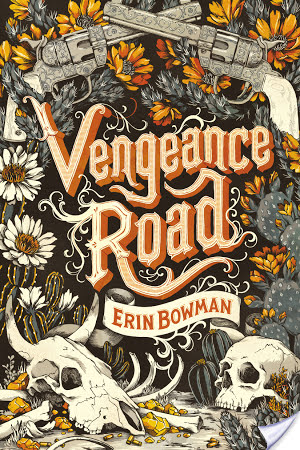 Vengeance Road

by Erin Bowman
Published by Houghton Mifflin Harcourt on September 1st 2015
Genres: Young Adult, Westerns, Action & Adventure, General, Love & Romance, Girls & Women, Historical, United States, 19th Century, Lifestyles, Farm & Ranch Life
Pages: 330
Format: eARC
Source: Netgalley
Buy on Amazon
Goodreads


When Kate Thompson's father is killed by the notorious Rose Riders for a mysterious journal that reveals the secret location of a gold mine, the eighteen-year-old disguises herself as a boy and takes to the gritty plains looking for answers and justice. What she finds are devious strangers, dust storms, and a pair of brothers who refuse to quit riding in her shadow. But as Kate gets closer to the secrets about her family, she gets closer to the truth about herself and must decide if there's room for love in a heart so full of hate. In the spirit of True Grit, the cutthroat days of the Wild West come to life for a new generation.
I received this book for free in exchange for an honest review. This does not affect my opinion of the book or the content of my review.
Why Did I Read?
Well I've always been a fan of Westerns! I own almost all the seasons of Rawhide on DVD because I'm obsessed with young Clint Eastwood and his character Rowdy's adventures on a cattle drive! So I was definitely eager to read this one!
My Thoughts:
This was one fast paced, intense ride! I enjoyed it so much!! The story starts out with Kate Thompson finding her father murdered. She immediately chases after them, determined to avenge her father's death. The gang who murdered her father turns out to be the notorious Rose Riders — a group of dangerous men who all have a price on their heads. They're known for their grisly deeds and heartless acts but this doesn't deter Kate one bit. She dresses up as a boy and continues her chase.
I loved the setting! I really liked the writing style and felt like it placed me smack into the story itself. It was like I could taste the dirt and feel the danger and smell the leather and horses. This all was really right up my alley.
I really adored Kate. She's this determined, brave girl who will not take crap from anyone. She is so badass and just the type of heroine that I enjoy rooting for. Along the way, she's joined by Will and Jesse, the sons of her father's old friend. They both feel responsible for her and despite her telling them to leave her to her revenge, they follow and soon they are all in too deep.
I read this book in one sitting because it's seriously nonstop action. It was intense. I was so engrossed and loved all the classic Western settings, like a small town, a saloon, the shootouts. I could see it all playing out like a fantastic Western film in my head. I couldn't put it down until its thrilling conclusion.
There is even a bit of romance and I really liked it! It's slowly built up and gradual and sort of sneaks up on you when you realize damn, I really like that boy. It definitely made my heart happy.
In Short…
This book is fun. It's exciting and action packed and I felt like I was riding right along with Kate as she rushed to track down her father's murderers. The plot is fantastic and there was even a twist I didn't even see coming. This is such a great Western story and I can't recommend it enough. Action, historical fiction, a bit of romance — there is something for everyone!
My Rating: 1/2
Related Posts