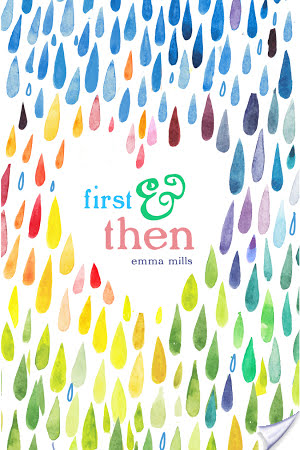 First & Then

by Emma Mills
Published by Macmillan on October 13th 2015
Genres: Young Adult, Love & Romance, Sports & Recreation, Football
Pages: 288
Format: ARC
Source: Gifted
Buy on Amazon
Goodreads


Devon has life pretty much figured out: she's got her best friend Cas, her secret crush (also Cas), and her comfortable routine (mostly spent with Cas). New experiences: not welcome here. But as she enters her senior year, her parents take in her cousin Foster, an undersized weirdo who shows an unexpected talent for football, and star runningback Ezra takes Foster under his wing. Devon can't figure out how she feels about Ezra. He's obviously stuck-up, but Foster adores him. Ezra has nothing to say to her, but he keeps seeking her out. And . . . Devon might actually like him. But only if she can learn to stand him first. Devon may have to reconsider her position on new experiences.Funny, fresh, and layered, FIRST & THEN remixes Austen's spirit into a captivating modern story.
Why Did I Read?
This book is pitched as Friday Night Lights meets Pride and Prejudice. Why, hello, two things I love! If you didn't know, I have a Football Friday feature and also have an undying love of football as well as of Mr. Darcy. It's a wonder I even waited this long to read this book!
My Thoughts:
I really, really loved this one, you guys! So Devon is your average high school senior — she's trying to figure out what she is going to do with the rest of her life after high school graduation and it's daunting! She's not sure what she wants to do or study in college and life is a bit more hectic now that her cousin Foster has moved in with her family. There's also Cas, her best friend and her long time crush.
Things I really liked in First & Then:
1) How Foster starts out as an annoying younger sibling type but then as he starts playing football and Devon spends a lot of time with him, taking him to and from practices, etc, they become very close. I really liked their developing sibling relationship and how they became an important aspect in each other's lives. Foster is also just adorable and I loved him.
2) Football! We get in depth views of football and my football loving heart was excited to see every practice and game.
3) The Jane Austen references were so well placed and made me smile! Devon is a big fan of Jane Austen and all the little references to her works were just great. The references fit into the story and one of my favorite lines that made me laugh had to do with Pride and Prejudice!
4) Ezra. He's so quiet and keeps to himself and generally, people think he's a jerk but he's really not, he just doesn't want to talk about himself much. I loved getting to know him and especially loved how nice he was to work with Foster and mentor him as Foster joins the football team.
In Short…
This was a truly cute story that I enjoyed immensely. I loved that it brought back a lot of high school feels. The Jane Austen plus football aspects really made the book for me and if you are a fan of either, you'll love it! I really wish we had gotten a bit more with Ezra and seeing more conversations or time spent together with Devon but it still brought on swoony smiles from me. Overall such a great contemporary that I highly recommend!
My Rating: 1/2
Have you read this one yet? Did you love it as much as I did? Do you also love football and Jane Austen?
Related Posts