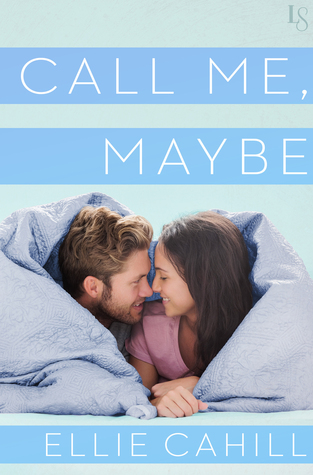 Call Me, Maybe

by Ellie Cahill
Published by Random House Publishing Group on February 9th 2016
Genres: Fiction, Romance, Contemporary, New Adult, Contemporary Women
Pages: 217
Format: eARC
Source: Netgalley
Buy on Amazon
Goodreads


"Ellie Cahill is definitely one to watch!" raves bestselling author Cora Carmack, and this steamy, upbeat modern romance about connecting in all the best ways proves it once again. Clementine Daly knows she's the black sheep. Her wealthy, powerful family has watched her very closely since she almost got caught in an embarrassing scandal a few years ago. So when Clementine's sent on a mission to live up to the Daly name, politely declining isn't an option. Of course, the last thing she does before boarding the plane is to grab a stranger's phone by mistake—leaving the hunky journalist with her phone. Soon his sexy voice is on the line, but he doesn't know her real name, or her famous pedigree—which is just the way Clementine likes it. Despite all the hassles, Justin Mueller is intrigued to realize that the beautiful brown-eyed girl he met at the airport is suddenly at his fingertips. They agree to exchange phones when they're both back in town, but after a week of flirty texts and wonderfully intimate conversations, Justin doesn't want to let her go. The only problem? It turns out that Clemetine has been lying to him about, well, everything. Except for the one thing two people can't fake, the only thing that matters: The heat between them is for real.
I received this book for free in exchange for an honest review. This does not affect my opinion of the book or the content of my review.
Why Did I Read?
This was such a sweet and funny set up and I love those sort of cute romances!
My Thoughts:
The set up to this romance was the absolute cutest. I adored it! Clementine comes from a rich family and tries to keep it on the down low, especially given an incident she's experienced before in her past. On a trip, she accidentally switches phones with a stranger and hops on her flight before she notices. For the next few days, she and this (charming and funny) stranger exchange texts and calls as they update each other on messages for the other person they've gotten on their phone. These turn into more and I just absolutely loved their interactions! Just so super cute! I was practically grinning the entire time.
It turns out they are from the same city and meet up when they're both back in town. I adored their dates and while things moved fast, I enjoyed watching them fall for each other! Then comes my hang up…
Everything was going so well and then there is just a wealth of miscommunication and Clementine gets all these paranoid thoughts that she does not communicate with Justin about. I realize given Clementine's past that there is a basis for it but it just seemed way too much. I got annoyed at all the non-communication. However, despite my hang up with this part of the story, I greatly enjoyed everything else!
In Short…
This was a super cute story with a charming and funny romance full of awesome banter! I wish the "conflict" wasn't based so much on non-communication but I did really enjoy everything else.
My Rating: 1/2
Related Posts