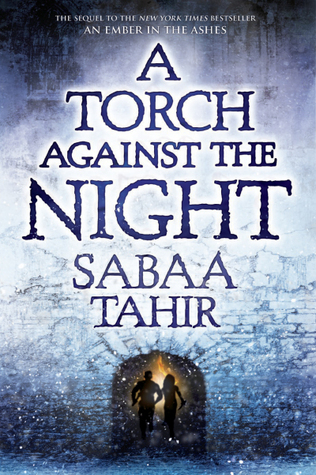 A Torch Against the Night

by Sabaa Tahir
Series: An Ember in the Ashes #2
Published by Penguin on August 30, 2016
Genres: Young Adult, Fantasy & Magic
Pages: 464
Format: ARC
Source: BEA
Goodreads


Elias and Laia are running for their lives.
Following the events of the Fourth Trial, an army led by Masks hunts the two fugitives as they escape the city of Serra and journey across the vast lands of the Martial Empire. Laia is determined to break into Kauf--the Empire's most secure and dangerous prison--and save her brother, whose knowledge of Serric steel is the key to the Scholars' future. And Elias is determined to stay by Laia's side...even if it means giving up his own chance at freedom. But Elias and Laia will have to fight every step of the way if they're going to outsmart their enemies: the bloodthirsty Emperor Marcus, the merciless Commandant, the sadistic Warden of Kauf, and, most heartbreaking of all, Helene--Elias's former friend and the Empire's newest Blood Shrike.
Helene's mission is horrifying, unwanted, and clear: find the traitor Elias Veturius and the Scholar slave who helped him escape...and kill them both.
I received this book for free in exchange for an honest review. This does not affect my opinion of the book or the content of my review.
Why Did I Read?
I really loved An Ember in the Ashes! I couldn't wait to see what was going to happen to Elias and Laia and what was going to happen in the Empire.
My Thoughts:
As a whole, I definitely enjoyed this one. I'm actually having a hard time putting my thoughts together because there are aspects I REALLY liked but also things I really didn't. For the most part though, this was an enjoyable read.
Firstly, I really love this world. I think it's a cool fantasy world with magic that we're just now learning more about in this book. I loved that! I love the feel of this world and also how brutal things can be. It gives off a bit of a Game of Thrones and Spartacus vibe, especially in the brutal category.
I really love Elias. I think he's a great, complex character and Sabaa has developed him really well. He has so many inner battles with himself and while he's had to do terrible things, he's still so good and you just can't help but root for him. He's definitely a favorite. However, Laia is not my favorite and I think it probably has to do with the romance.
I don't like the romance in this series. I was never a fan of it. In Ember, I was always confused why it was Elias and Laia because I totally and completely think Elias and Helene are a perfect fit. I LOVE Helene. She is this strong, independent, brave woman that I think complements Elias so well. But it's supposed to be Elias and Laia instead and that never felt right to me. They barely really get to know each other in Ember and it still never felt right to me in Torch either. But besides that, I also don't like the return of the love triangle. I thought we were done with that after the first book, but nope. To be honest, the whole romance front feels just a bit messy. View Spoiler »Keenan comes back and I was so irritated that we were going to be doing a love triangle, AGAIN. Then it turns out he's not really even "Keenan" and has been tricking Laia all along… but it's just weird because Laia definitely thinks she loves Elias and then thinks she loves Keenan enough to sleep with him? I basically didn't like the romance aspect at all. « Hide Spoiler
The pacing was slow in the first half. Laia and Elias are heading to Kauf to find and free her brother but it just seems to take a long time before anything really happens. Then it's nonstop action. It kind of threw me off because I wasn't sure if this was going to be a duology or if it will have more books in the series. I mean, with the amount of unanswered questions, I'd hope there will be another book?
It sounds like I didn't like it but I did! The world kept me riveted, I wanted to know more about the creatures that are mentioned and the magic. And I'm mostly here for Helene, I adore her. View Spoiler »And seriously, can she please catch a break in the next book?? Pretty please?? « Hide Spoiler
In Short…
The world in this series is phenomenal. Also there are some crazy revelations that have me hoping there will be a next book! I am unfortunately not a fan of the romance at all but do have some favorite characters that I will keep reading for!
My Rating: 1/2
Have you read this series? What do you think? Did you struggle with the romance aspect like I did? What's your favorite part of this fantasy world?
Related Posts