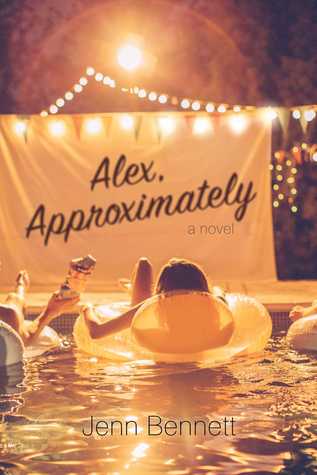 Alex, Approximately

by Jenn Bennett
Published by Simon and Schuster on April 4th 2017
Genres: Young Adult Fiction, Humorous, General, Romance, Contemporary, Social Themes, New Experience
Pages: 400
Format: eARC
Source: Netgalley
Buy on Amazon
Goodreads


In this delightfully charming teen spin on You've Got Mail, the one guy Bailey Rydell can't stand is actually the boy of her dreams—she just doesn't know it yet.
Classic movie buff Bailey "Mink" Rydell has spent months crushing on a witty film geek she only knows online by "Alex." Two coasts separate the teens until Bailey moves in with her dad, who lives in the same California surfing town as her online crush.
Faced with doubts (what if he's a creep in real life—or worse?), Bailey doesn't tell Alex she's moved to his hometown. Or that she's landed a job at the local tourist-trap museum. Or that she's being heckled daily by the irritatingly hot museum security guard, Porter Roth—a.k.a. her new arch-nemesis. But life is whole lot messier than the movies, especially when Bailey discovers that tricky fine line between hate, love, and whatever-it-is she's starting to feel for Porter.
And as the summer months go by, Bailey must choose whether to cling to a dreamy online fantasy in Alex or take a risk on an imperfect reality with Porter. The choice is both simpler and more complicated than she realizes, because Porter Roth is hiding a secret of his own: Porter is Alex…Approximately.
I received this book for free in exchange for an honest review. This does not affect my opinion of the book or the content of my review.
Why Did I Read?
You've Got Mail is a favorite movie so I was all over this!
My thoughts:
I loved the set up of this book! Bailey is close friends with Alex — but they've never met. They only know each other through a film forum and emails and so when Bailey moves to stay with her dad (who lives in the same town as Alex), she figures this is perfect for scouting out this Alex.
I love the movie You've Got Mail and this more modern, YA spin on it was fantastic. The setting is so great and so unique! Bailey starts working at a museum where she meets infuriating Porter. They grate on each other but eventually come to be friends. I absolutely loved their interactions! They were not only adorable but funny and had a lot of facets in their relationship.
Bailey is such a fun main character. She likes vintage clothes and classic movies. She is also an avoider. She doesn't like confrontation. She makes so many big steps in facing conflict and making friends throughout this book. I really enjoyed her character development and changes! I also really liked her relationship with her dad! (I love Settlers of Catan, I am so there for game night!)
Porter is swoony and amazing — I love Porter!! He's just so charming. The banter between him and Bailey is A++ and let's be honest, I am ALWAYS there for the banter.
My only complaint about this one is that it seemed so obvious who Porter was! And Bailey just didn't see it and I don't know, it just seemed like she should've put two and two together at some point? I guess I was just waiting for that moment when she was going to find out and have it click but it never happened. That may be just a bad expectation on my part though, and won't be an issue for other readers.
In Short…
I loved this unique, summery and banterific book! Alex, Approximately was full of heart and just made me so happy! I was full of smiles as I read and I wanted to be on a Californian beach so bad! The setting was so vivid. This book will have you swooning over Porter and craving some churros and baked goods!
My Rating: 1/2
You'll definitely want this in your beach bag! Have you read it? Tell me your thoughts!
Related Posts