Last week I was able to go to NYC and go to BEA! It was my first time ever at BEA and I was so excited yet nervous (will I get books? what do I say to publishers? will my roommates actually be 50 year old men?) but it was so amazingly fun!! Hope you guys enjoy my recap of my week of NYC adventures and BEA! Tuesday: I was a slacker with packing and also just moved back to WA so one am found me digging through moving boxes and yelling at them while I tried to find my BEA outfits. Three hours later, I got to wake up and head to the airport! Met up with Chelsea there where we immediately started taking selfies.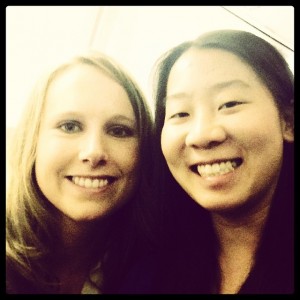 The flight didn't even seem long as we got to chat! Landed in NY and then caught a cab to our hotel — oh that cab ride. Let me tell you about the cab ride from hell. First, he asks us if he can "drive fast". Then he proceeds to do so and an hour later, I was ready to puke. (I get carsick easily) It was a frightening ride.
We met up with Cece at the hotel and then headed off to see If/Then! Grabbed some cheap pizza across from the theater and then headed over. We were trying to continue our selfie trend when we noticed someone trying to photo bomb us. We turned and were like umm hi? Then we asked him to take our picture since hey, he was there. He does and then goes into the side cast door! We were like oh, is he in the show? He comes back a minute later and says he'd feel like a jerk if he didn't take one with us and does so. He tells us to watch for "the guy in the army uniform in the beginning". We're thinking oh, some small part in the beginning. Except, no, he's one of the leads! That we had kicked out of our picture at first! Haha! We found it pretty hilarious, and so glad he decided to come back to take one with us!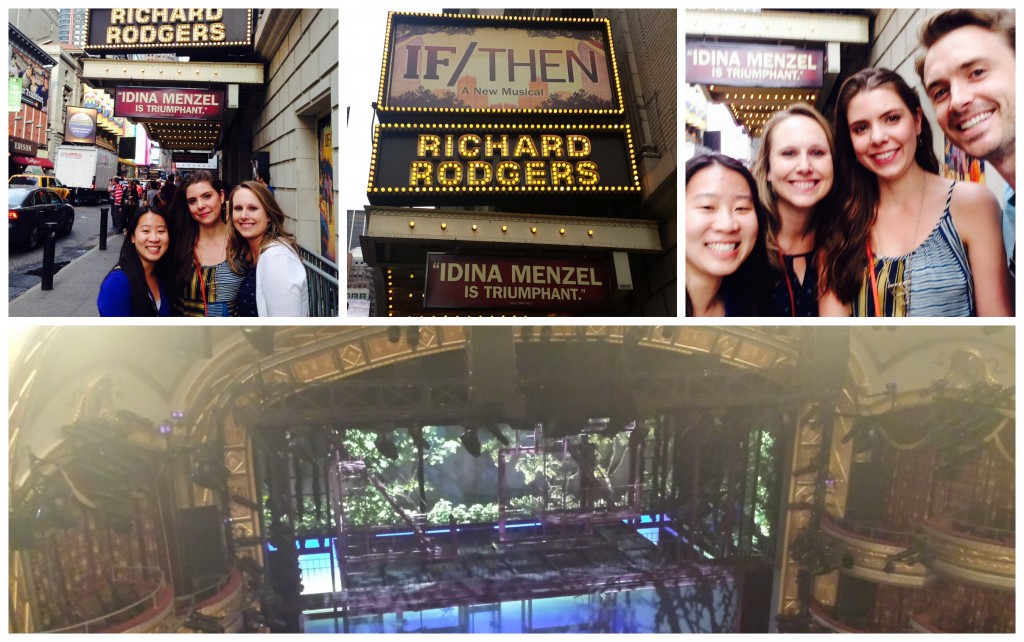 If/Then was amazing by the way — I loved it!! I even cried. Also, I just love Idina Menzel!
Wednesday:
We strolled over to Javits (our hotel was a block away!) and got our badges and then went down to Blogger Con! Maureen Johnson was the keynote speaker and she is freaking hilarious! The rest of the day was broken up into panels. There were some interesting points made in the panels but overall I'm not sure that I learned that much. They became kind of repetitive. I also found myself getting really sleepy. I had to resort to stealing some coffee from the audio pub convention across the way. However, the day ended with a ton of BOOKS and that was all kinds of exciting! The tote we got from blogger con was also the primary one I used all week! Really sturdy canvas and just the right size! I was especially excited to see Zodiac by Romina Russell among the books because I had previously thought it wouldn't fit in my schedule — and she was there too so I was able to get it signed!
Afterward, we found Danielle so we could go over to the Teen Author Carnival together! I did the whole stalkerish staring at the back of her for a few minutes and texting her "I see you?" before we figured out it was her, haha. Chelsea hung back at the hotel to wait for Tonya and Jessica (our other roommates) and Cece, Danielle and I headed off! We couldn't get a taxi so we subway-ed over to TAC! We met Hannah and Betty and then hopped into some panels! Now, as you all know… I am the biggest JLA fangirl. I started blogging after I read her books! I freaking love her. AND I GOT TO MEET HER AND IT WAS AMAZING. I acted a lot cooler than I felt. I think.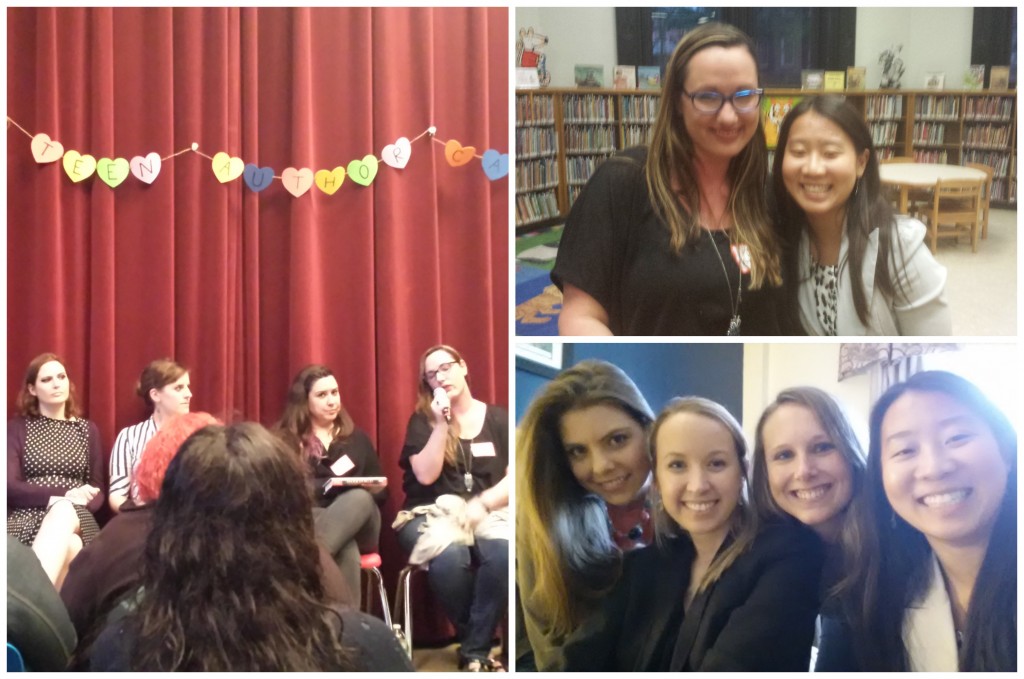 Anyway, we all headed to Chipotle after where I got to meet Alexa and Lauren! Chelsea also made it there with Tonya and Jess! I was so excited to see them!! We headed back and looked at our schedules to plan and generally got really excited about BEA!
Thursday: BEA Day 1!
Woke up freakishly early and headed over to Javits! Hung out in line before it was time!! I expected Javits to be super confusing, especially because that stupid map online makes it look SUPER confusing. However, after a quick once through, I kind of got the layout of the main pubs I wanted to see. We grabbed drop schedules and then I got in line for Garth Nix!! His Sabriel series was one of the first high fantasy series I fell in love with so needless to say, I couldn't wait to meet him and also get Clariel!!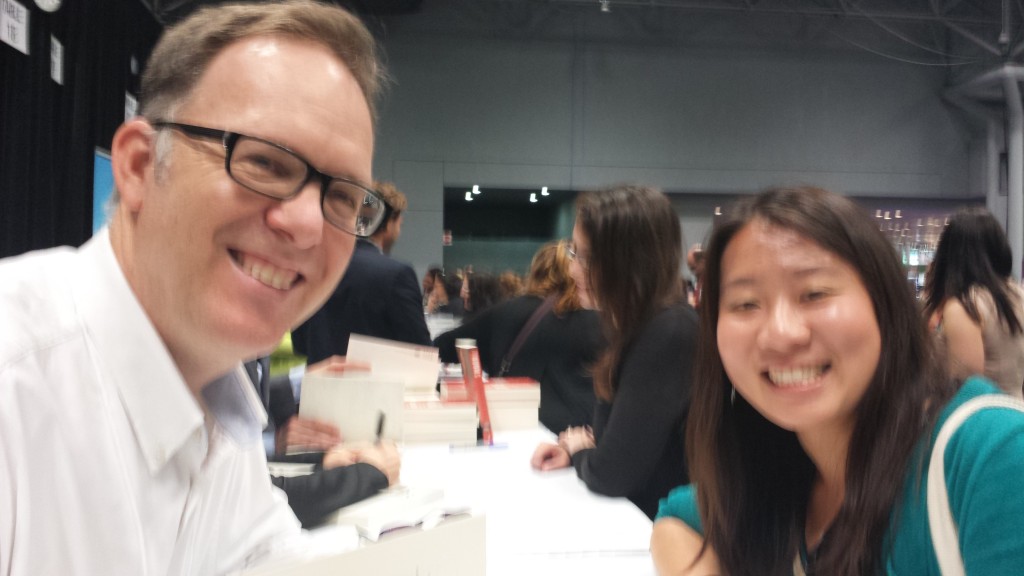 I then headed over to the Harlequin booth for the Harlequin Teen signing! I found Rebecca in that line! I also met some nice people in line who held my spot as I ran off to find a bathroom and also dump some books in our suitcase downstairs. The Harlequin signing was so much fun as I got to meet Julie Kagawa, Robin Talley, Adi Alsaid, Alexandra Adornetto, Dawn, Metcalf and Jennifer Armentrout (yes, I informed JLA that I was going to be seeing her many many times that week, haha).
I did some wandering on the floor before going to Jeanine Frost's signing and going to some drops after. Now you all may think I'm crazy but I did wait in a line to get my amazing Throne of Glass tote. Which was a scary thought that there was a legit LINE for a TOTE BAG. Indicative of what was going to go down for Heir of Fire the next day!! We all went to grab dinner at Clyde Frazier's Wine & Dine and then went to explore Time Square! Then we went on an adventure to get Danielle back to her hotel. 🙂 Haha, love you Danielle!
Friday: BEA Day 2!
So, I had brought my most comfortable flats. But after two full days of being on my feet and walking EVERYWHERE, all day? My feet were crying. I wore my flip flops Friday because I needed to not die. We met up with Teresa and Heather at the beginning of the day and got to hang out in line before day 2 started!
So, I had told myself that I would have to give up Heir of Fire because honestly 2 hours? I could do a lot of other stuff in that time. However, after I went around and got the galley drops I wanted, I realized there wasn't anything I wanted at that time. Why not wait in line?? So at around 9:40 I got in line and the line was already sort of big! (Signing at 11) Rebecca and I hung out in line and also made friends with the nice people behind us! The line really was insane though — we didn't get to the front until 12 pm! Sarah J. Maas was only supposed to sign til 12 but they were super nice and later when I walked by, she was still signing at close to 1 pm! I was SO excited to get my hands on Heir of Fire but also SO excited to meet Sarah! I was really sad when her publicist told me no more pictures since it was already 12 but Rebecca was awesome and snapped one of us real quick. Sarah was just the nicest too!
Rebecca and I headed to Morgan Matson's line and then I got Meg Wolitzer's Belzhar after. I also got to see Cora Carmack again and I'm so excited for her book All Lined Up!! 3 pm Friday was also when they decided EVERYTHING would happen. I was in line for Rachel Harris (by the way I already read the Fine Art of Pretending and LOVED — mark it on your TBR everyone!!) but desperately also wanted the drops happening at Little Brown. I ran into Amy, one of the girls I waited in line with for Heir of Fire, who knew the people at Little Brown who graciously gave me Salt and Storm ahead of time! I could've hugged her. After grabbing a few more galley drops, we headed back to the hotel.
We ate dinner at this delicious place that I don't remember the name of but basically we were all famished and inhaled our respective pizzas. From there we headed to the Book Blogger Picnic! We were a little late and got caught in some crazy downpour but eventually found them! We ate some delicious cake and met lots of other bloggers! Thanks Alexa, Katelyn, Andrea and Jen for such a fun picnic!! We headed to Pub McGee's afterward, apparently the pub that the bar from How I Met Your Mother was made after. Had a fun time hanging out with everyone!
Saturday: BEA Day 3/BookCon
BookCon is the new thing that they added this year — open to consumers but only on about a third of the BEA show floor. Um wow, this was craziness. Apparently they sold almost 10K tickets to this thing and they were all crammed onto a tiny area. The other two BEA days was WONDERFULLY organized, the autographing areas had tidy lines with clear walkways… BookCon? Let's just say I was worried about what would happen if there was a fire. We would have all died. MASSES of people were just there, clogging everything and I just felt claustrophobic. We dubbed BookCon side the "dark side" and tried to hide out on the BEA side as much as possible. Anyway, the main thing I wanted — I mean, NEEDED, was the Return by Jennifer Armentrout. 
We ran in and got tickets for her signing first thing and even then waited foreverrrr. Totally worth it, obviously. Unfortunately, I had wanted to go to some Hatchette signings after but BookCon was just TOO CRAZY. After getting a bunch of galleys from drops, we decided to call it a day and left early. No one wanted to deal with BookCon. We got lunch at an amazing Mexican place Teresa led us to. Afterward, I crashed and slept. The rest of the day was pretty low key as we were all pretty exhausted.
We hung out and grabbed some dollar pizza for dinner. We were all leaving the next day so it was just sad!! I think I have a BEA hangover right now. I even miss being squished in the middle, sharing a bed with Cece and Chelsea. 🙂 Besides all the books and amazing author meetings, I LOVED meeting all you bloggers in real life! I had so much fun with you all! I even met a lot of new people too! It was such an amazing experience! My feet have almost but not quite recovered. 🙂
My only BEA regret? Not taking a selfie with those cute Black Ice guys promoting at the S&S booth. *sigh* Oh and also, I'm sad I didn't get pictures with people I met really quickly! Next time!! Oh and the books. Here is my final BEA haul! I was all worried about weight issues for checking my bags but I ended up checking 2 bags with a carry on and spread everything out and it worked out great!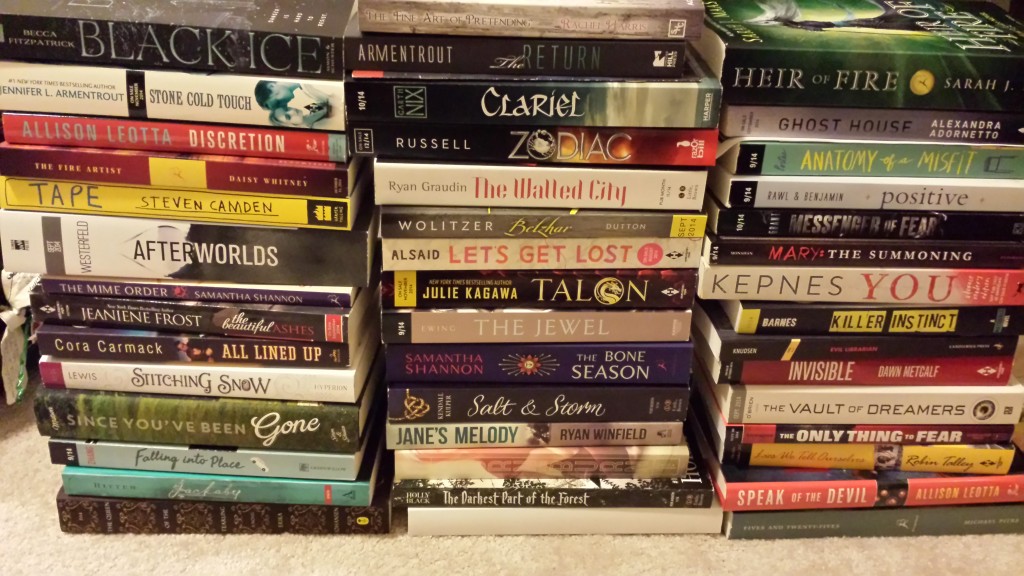 Related Posts