Last week I was able to take an incredibly fun trip to Nashville (I've always wanted to go to Nashville!!) to attend UtopYa with some of my blogging besties (Tonya, Jess, Danielle)!! I couldn't have been more excited and to be honest, I was mostly just super excited to hang out with my friends that I haven't seen in so long! And it was SO AMAZING and I'm now in a post vacay funk and I'm sad and suffering from friend withdrawals. SO let's relive the amazingness, shall we?
Wednesday: The Day of Travel Hell
I had a nice and early 5 am flight so after a mere 3 hrs of sleep, I got up, bushy tailed and bleary eyed to wait for my cab to pick me up at 3 am.
Travel Mishap #1:
Cabbie calls. "Hello I'm in your driveway."
Ummm. No you're not. I'm looking out into my driveway.
"Are you sure?"
…YES. I'm sure. I know what a car looks like, and there isn't one there!
He finally plugs it into his GPS so he can get here (c'mon, why didn't you do this first?!)
So we get started late but it's okay because I'm paranoid and booked him early anyway.
Mishap #2: Boarded the plane and girl in front of me has no seat cushion. Like, wtf? There's a skeleton of a seat there. We get delayed 30 min so maintenance can hang a little sign on there that says there's no seat. And now, I'm freaking out about making my connection because it was a short connection in Dallas to begin with!
Mishap #3: Thanks a lot tropical storm Bill! We take forever before we can land because of high winds. I'm biting my nails but I've studied the terminal map and I know I can sprint and make my connection! We land. I turn on my phone. Oh look. My flight is CANCELLED. whomp whomp.
So long story short, I finally get on a flight — I think I got REALLY lucky because the other two people I befriended also from Seattle heading toward Nashville got to the desk before me and got on standby. However, they gave me a boarding pass! Woohoo! I'm on my way! Sort of. After many delays, I finally end up in Nashville!
From there I envelope these girls and never let them go. <3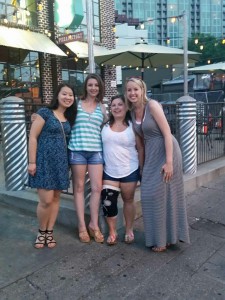 We eat at Soulshine Pizza (YUM), then we head to the Millenium Hotel to help Heather Lyons set up her table and such (I shamelessly petted every single book because hellooo gorgeous covers). Then we headed up to her room to grab some stuff before heading back to Jess' apartment… where we got onto an elevator with a guy who looked more athletic than average.
Danielle: "Do you play football?"
Him: "Umm, yes."
D: "Who do you play for?"
Him: "The Titans."
Us: *FREAKS OUT*
D: *lots of speech here*
Me: silence bc omg what do I say
D: "What's your name?"
Him: Umm… Tre.
We get to our floor, exclaim how cool it is he plays for the Titans and exit. But of course we have spied that he had pressed the 9th floor button and D and I giddily go up to the 9th floor to scout things out because UM FOOTBALL PLAYERS. Tonya and Jess think we're crazy. 😉
So that's how we wandered their floor and took this pic. (OH BUT LITTLE DID WE KNOW THEN THAT THEY WERE EVERYWHEREEE. Stay tuned.)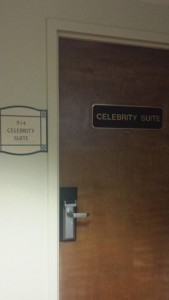 We get back to Jess' where I proceed to google the shit out of the Titans and figure out that Mr. Elevator Dude is Tre McBride, rookie draftee of the Titans! How cool is that!
Thursday:
We suck at waking up and getting ready quickly. We meander to the hotel around late morning and went to the Great Sexpectations panel where Katie McGarry, Chelsea Fine and Rebecca Donovan discussed NA, YA and the topic of sex in both. It was really interesting to hear their thoughts! Mostly they emphasized staying true to their characters and the story.
Also I have to mention that I just adore Katie McGarry. Her books pack so much emotion and she speaks like that too. She told us an anecdote that almost brought me to tears! Love her so much.
After the panel, we met up with Cassie, a fellow blogger, and we all traversed to a Germantown cafe for lunch where I devoured a delicious sandwich I have no picture of. This is really an epic fail on my part because usually I take pictures of my food at every meal on vacation! Afterward, we headed back to the hotel to wander the exhibit floor and go to another panel.
As Danielle, Cassie and I walk into the hotel, we notice a van taking athletic looking guys out. Lots of these big, tall guys were also wandering the lobby. You can imagine Danielle and my excitement. I can only guess what Cassie thought of us, seeing as I had just met her, and she probably thought we were certifiably crazy. (Partly true — we are crazy about football.) Danielle and I were kind of freaking out a lot when we spied a couple of these big guys heading out to the pool. Of course we follow them out because… why the hell not? Danielle bravely asked if they played for the Titans to which they explained they were sort of "trying out" while one of the guys was already on the team. So then she asked for a picture while I attempted to peer through the gate to the pool because I was too damn short to look OVER it like Danielle was doing. SIGH. They graciously said yes and we traipsed on over and Cassie said she'd take a picture for us (I'm so glad she didn't run away from us crazies!)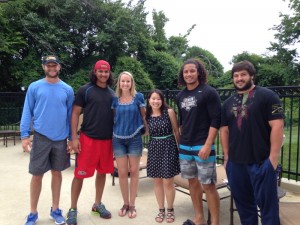 Look at Danielle being all super cozy with the corner (was that his position? I can't remember) while I look like I'm touching the linebacker's ass — clarification: I was NOT, I was just awkward, doing the "do I touch his back or just hover there and not touch him because touching would be weird and what am I even doing with this arm". The one on the far right is the one they said was "on" the team and based on him telling us he is a fullback we later stalked and figured out he is Connor Neighbors (someone give us a medal for our skills).
So then Danielle chatted about how she's a Giants fan, I said I'm a Seahawks fan but did like the Titans because of Jake Locker even if he's not there anymore because I went to UW. Linebacker guy (the one next to me) raises his eyebrows at UW and says he went to USC. (There's a bit of a rivalry there.) To which I tell him I don't like USC and he just grins and tells me I can't take the picture back. Sigh. They tell us they've been at the hotel for forever and we tell them we're here for a book conference. D: "we're nerds." Me: "But we're football loving nerds!"
(By the way, I'll give you one guess who the kicker is in that picture. Haha.)
We giddily meet up with Jess and Tonya and head up to the Why YA Matters panel with Lauren Miller, Chanda Hahn and Hope Collier. This was pretty interesting because back when I was in high school, I honestly don't think the "young adult" category was really there. It's pretty awesome to see how BIG it is now. I remember thinking back then that I had "run out of" books I wanted to read at the library because I'd basically read the whole children's section and the Fiction section was all one big looming place! Now YA is so prevalent and it's awesome.
After the panel, we headed down to the exhibit hall to wander! I picked up a lot of swag around the booths so I could look up the books afterward (I have a hard time impulse buying and then sometimes I'll feel guilty not buying after speaking to the author who sounds super nice, you know what I mean?) I have yet to go through it though (because yeah, guess who hasn't fully unpacked yet?) SOON. I will get to that soon!
For dinner we went to Loveless Cafe that apparently lots of famous people have gone to and is known for their southern food. While waiting for a table, we wandered the shop and walked around and I revelled in the fact that country music is played everywhereee. I love you Seattle, but if you could have more country music, I'd love you even more.
So while we wandered, we took this cute pic: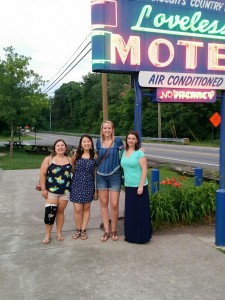 And also this lovely pic that still makes me crack up every time I look at it. I LOVE IT SO MUCH, it's perfect.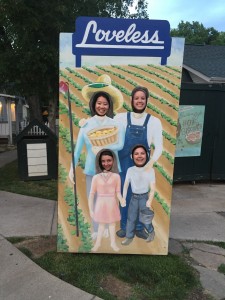 Our food was deliciousss, amazing biscuits and I got the BBQ pulled pork sandwich.
While we waited for the food, we were unscrambling words on the placemat we were all given and one of them looked suspiciously like "orgasm" (it wasn't, it was sorghum, whatever that is) and Danielle definitely yelled out "orgasm!" when everything was quiet. Later, I yelped when a bug flew into my face. We were every diner's dream! We all got pie to go and we NEVER ATE IT. I'm very sad about this fact.
End to the first half of the trip… stay tuned for part 2 to come on Wednesday!
Related Posts