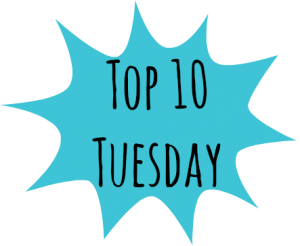 Top Ten Tuesday is a weekly bookish meme hosted by The Broke and the Bookish! 
This week is about those books we struggled with! I combined it a bit, and did 5 I put down and didn't finish and 5 that I wish I had… Keep in mind these are books I know plenty of people have really enjoyed but it just didn't work for me for one reason or another.
1. Carve the Mark by Veronica Roth:
I'm a big sci fi fan and I truly wanted to enjoy this! But I just got really bored and couldn't bring myself to push through it.
2. Linger by Maggie Stiefvater:
I'm a HUGE Maggie fan! I reread Scorpio Races every year and LOVE The Raven Boys so much. But this series? I couldn't get into it. The romance was soo instalovey in Shiver but I managed to push through because, well, it's Maggie. But I gave up with this one. 🙁
3. Roseblood by A.G. Howard:
I was so excited for this Phantom of the Opera retelling! But I got bored and it just wasn't worth it to me to keep going. Bummer!
4. Spindle Fire by Lexa Hillyer:
Fantasy fairytale retelling – should be right up my alley but this one came off really bland to me.
5. Roar by Cora Carmack:
This one is devastating because I LOVE Cora and I've been looking forward to this one since I first heard it announced! But GEEZ, the romance started off oh so instalovey and I tried sooo hard but couldn't get into it at all. I was really sad it didn't work for me. 🙁
Now for the five I wish I HAD put down…
1. A Conjuring of Light by V.E. Schwab:
hey, yeah, I'm the biggest black sheep here. But nope. So bored, so many pages and so little plot. It's sad because I LOVED ADSOM.
2. Red Queen by Victoria Aveyard:
It just all seemed so cliche, like a bunch of YA dystopian tropes mashed into one book.
3. Shiver by Maggie Stiefvater:
It led to my DNF of Linger as seen above… I probably should've just stopped here.
4. The Shadow Queen by C.J. Redwine:
I actually just think this author's books aren't for me – this book just had so many things I should've loved though so I kept going. Sadly, I just didn't enjoy it at all.
5. I don't actually have a 5th! Oh well!
Tell me something you've put down recently or something that just didn't work out for you! Do we have any in common? I feel very black sheep ish about most of these!
Related Posts